Star Wars parents, remember that hand designed and built X-wing rocker from a few months ago? Well, another craftsman has just topped it. An Australian father has come up with an amazing custom rocking horse that looks just like the Speeder Bike from Return of the Jedi. While you look at the pictures below (including the one of his daughter in that adorable Princess Leia hairdo knit cap), don't be discouraged that it isn't for sale, as the craftsman has detailed the construction process on the Instructables website, under the username "Tez_Gelmir."
If you decide to tackle this homemade project yourself with Tez's detailed documentation as a guide, be warned of what you're getting into. This is not a beginner's project, as it requires both skills and experience at working with wood, metal, and upholstery. Unless, of course, you don't mind your Speeder Bike rocker not looking as good as what's seen here.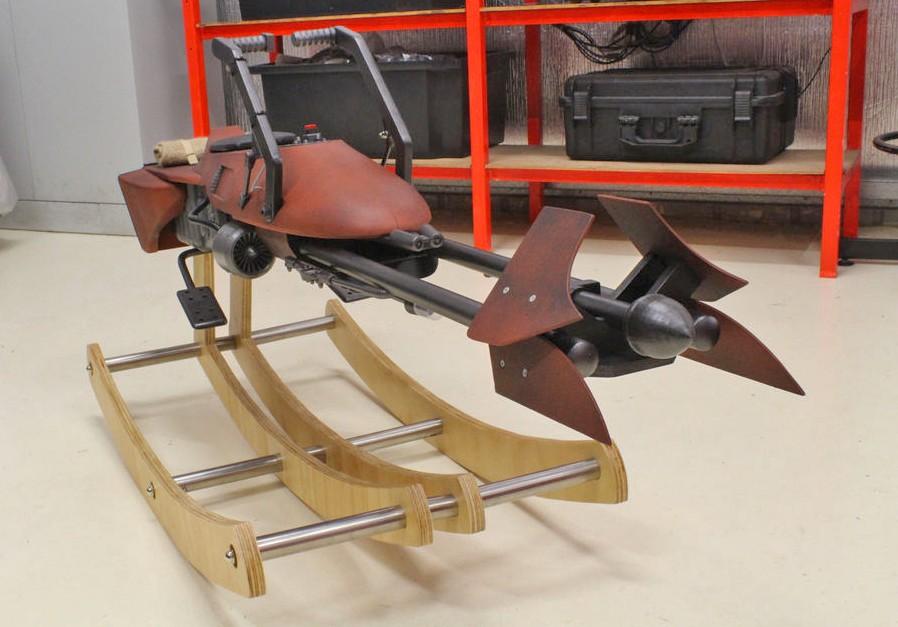 An insane amount of detail has gone into Tez's creation, with the turbine engines and linkages appearing exactly like the Speeder Bike from the movie. The rocker ended up being made from a number of different materials, including plywood, PVC tubing, metal screws and bolts, and some 3D printing to boot.
Tez mentions that he built the rocker for his daughter's first birthday, and it's clear she loves it. Now that we've seen an X-wing and Speeder Bike, and with The Force Awakens quickly approaching, we still need someone to build a Millennium Falcon rocker. Get on it, Dads!
SOURCE Instructables