Star Wars Rogue One RC Tie Fighter lets you fly for the empire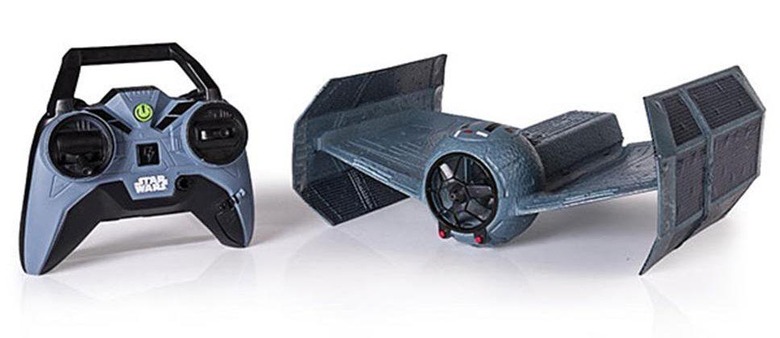 Excited about the upcoming Rogue One Star Wars movie? Merchandise for the film is already surfacing, and newest among them is this remote controlled Tie Fighter. With this RC device, fans who are imperials at heart can pilot their own space craft for the Empire, doing so with ranges up to 250ft., and with the convenience of easily replaced AA batteries. Yes, the Tie Fighter is made from crash-resistant material, too.
It seems this Tie Fighter is a model of Darth Vader's TIE Advanced x1, and it is a fully functional remote controlled vehicle, able to fly within a range of 250ft (any further and your controller will lose connectivity with the device). The controller connects with the Tie Fighter via a 2.4Ghz connection; the controller is also used to charge the Tie Fighter.
The Tie Fighter features a ducted fan propeller and rudder control. The total measurements come in at 8-inches in length with a height of 3.9-inches and a wingspan of 9.7-inches. The unit is powered by half a dozen AA batteries — it appears you can use rechargeable ones and charge them directly in the device, as ThinkGeek says the Tie Fighter "recharges via the remote control."
As with ThinkGeek's other Star Wars items, this is officially licensed and adhere's the franchise's official design. You can order a unit now from the online retailer for $69.99 USD; be sure to check the shipping restrictions, though, as shipping is not available to the UK and many other countries.
SOURCE: ThinkGeek