Star Wars R2-D2 Coffee Press Is The Preorder Your Morning Needs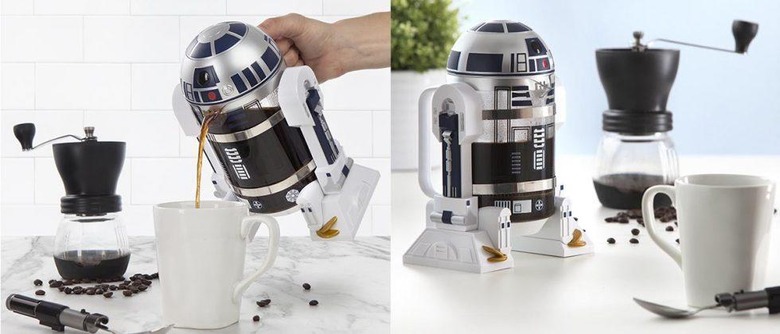 There's no shortage of Star Wars kitchen supplies; they span all sorts of gizmos, things like the X-Wing knife block and a dinner timer. Arguably the greatest among them all, though, is a new R2-D2 coffee press that has gone up for preorder. This coffee press looks like a miniature — though still somewhat large — R2-D2, only with a clear body rather than a white one. That inner empty space can hold up to 32 ounces of brewed coffee.
The R2-D2 coffee press comes from ThinkGeek, which designed it itself and offers it as an officially licensed product. The 32oz canister means you get four cups of coffee from each refill; it works like any other coffee press, with the grounds and hot water being poured inside the droid's body.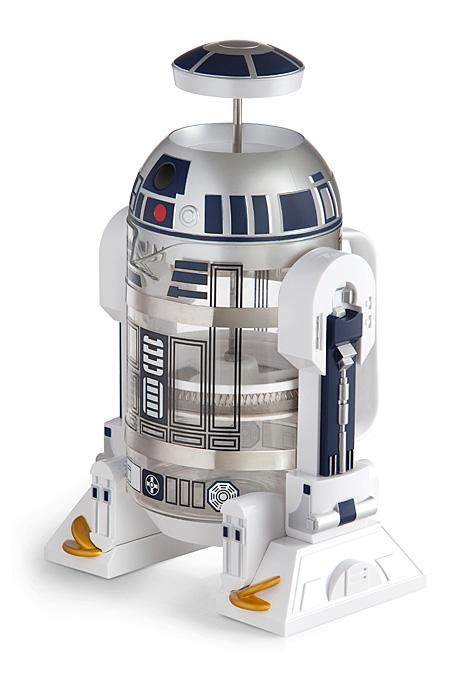 There's no obvious handle when the R2 unit is closed up, but the plunger is in fact part of the unit's head piece — it is raised up when the canister (which is made of BPA-free plastic) is filled. Simply push the plunger back down after a few minutes to remove the grounds from the coffee and you're ready to go.
Overall, the unit measures 6.50- x 9.5- x 6.5-inches in size, including the handle on the back, and it is dishwasher safe. The R2-D2 coffee press won't be available until the middle of December, however ThinkGeek is accepting preorders now. Those who managed to order before October 3rd will get their item in early November. There's currently a 2-per-customer order limitation. Price sits at $39.99 USD.
Be sure to check out the timeline before for some other R2-D2 gadgets!