Star Wars Posters Perfected in Every Way by Artist Tyler Stout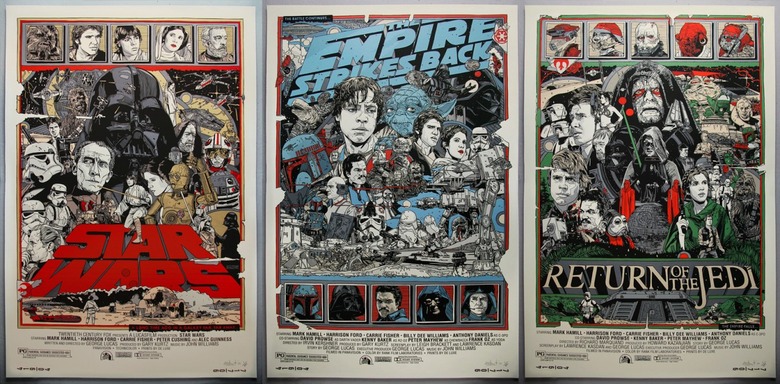 When it comes to Star Wars, there's only a few ways you can go wrong. You can make life-sized plush animals (barring ewoks,) you can make terrible Christmas ornaments, and you can make a Star Wars Holiday Special. Of all the ways you can go right, it's an extremely difficult market to break into for movie posters. Everyone in the world who wants a poster either already has one or already has a favorite, and why would they grab a new one with more than 30 years of posters already having been released. Surely the craft has been perfected by now. But I say thee nay, perfection was not done in any of the past three decades, it was done now, by illustrator Tyler Stout.
Mister Tyler Stout, an illustrator and designer extraordinair, does several things with his time including rock show posters, movie posters, and even toys! He's often commissioned by The Alamo Drafthouse Cinema to do fabulous new visions of classic or otherwise cult-classic films. With so many magical amalgamations under his belt such as The Big Lebowski, Inglourious Basterds, and Big Trouble in Little China under his belt, it was only a matter of time before this perfect vision was realized. Good luck getting one for yourself, they're basically all spoken for!
Regular editions of this set were done in a run of 850 and each poster sold for $50, while the variants (below) were editions of 275 and cost $100 each. Each poster was made as a screenprint, each one 7 colors with metallics. Check out more work by Tyler Stout over at http://www.tstout.com/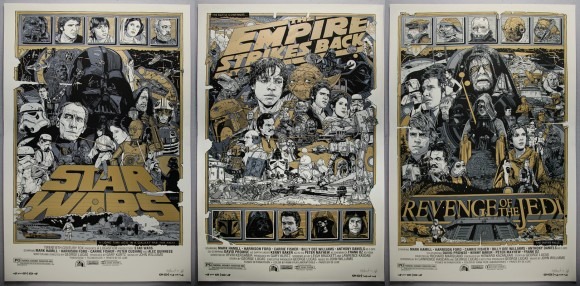 [Via TStout]