Star Wars lightsaber prop sells for $240,000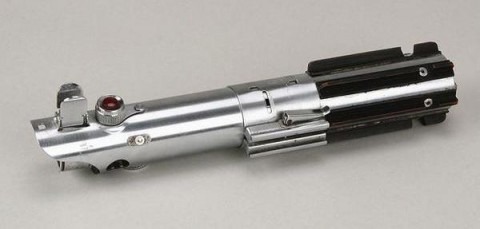 Remember the original Luke Skywalker lightsaber prop that went up for auction on December 11th?  The prop – which was used in both the first Star Wars and The Empire Strikes Back – well exceeded its $185k guide price, with the hammer finally falling at $240,000 (£160,000).  The specific buyer is unknown, but the item is just one of a number of high-price props to sell at the event.
C-3PO's helmet, for instance, sold for $120,000 (£80,000); its guide price had been $83,000.  It's not only Star Wars memorabilia, either: Wolverine's leather suit from the X-Men film sold for $90,000 (£60,000), while Jim Carrey's Batman Forever Riddler costume took $39,000 (£26,000).
The lightsaber prop itself was made from scrap parts from an old photography flashgun.  Meanwhile an original section of the Death Star fetched $20,300 (£13,300).