Star Wars Battlefront II detailed: The Last Jedi content, offline play, more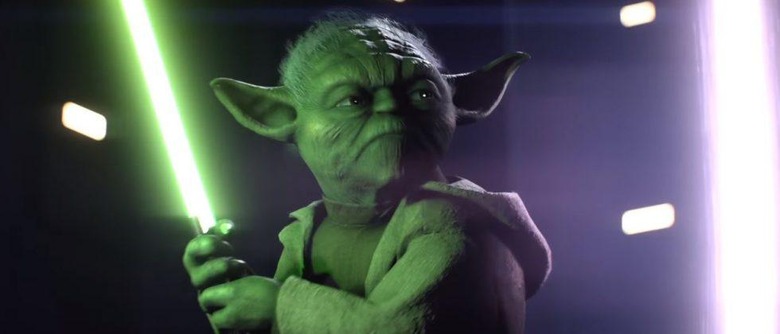 Perhaps the biggest game shown during EA's E3 press conference today was Star Wars Battlefront II. The first game in this Battlefront revival showed a lot of promise, but was ultimately criticized for its lack of content. EA is looking to address those criticisms with Battlefront II, announcing today that it will finally feature a single-player campaign.
In fact, EA says that Battlefront II will feature three times the content of the original. That may not be a hard quota to meet, considering that a lot of Battlefront content didn't actually ship with the game, but I digress. Jokes aside, it sounds like Battlefront II may actually do something to address complaints about the first game.
The single-player campaign will take place between the end of Return of the Jedi and the beginning of The Force Awakens, so unfortunately, we probably won't see much from Darth Vader, Emperor Palpatine, Yoda, or Obi-Wan Kenobi in it. In fact, a lot of the major characters from the first six Star Wars movies are dead by this point in the series, so it'll be interesting to see where EA takes the campaign.
Electronic Arts also reiterated today that Battlefront will cover all three Star Wars eras, so you'll be playing as battle droids, clone troopers, rebel pilots, and resistance stormtroopers throughout your time with the multiplayer component. Not bad, even if the battle droids from the prequels did make for pretty lame enemies. You can check out Battlefront II's first multiplayuer trailer below.
EA hosted a live multiplayer match during the show, but before that got underway, John Boyega – who plays Finn in the latest trilogy – came on screen to announce that Finn and Captain Phasma will be Battlefront II's first DLC characters. All post-launch characters and maps will be free, which is a pretty huge shift for EA. Beyond all of that, we'll get to play on the planet Crait, which appeared in the first trailer for The Last Jedi.
It definitely sounds like EA is taking criticism of the first game to heart, as Battlefront II seems to signal an entirely different approach to the Star Wars license. Hopefully the free DLC means that fans will keep playing this game well into the future. Battlefront II launches for PC, Xbox One, and PlayStation 4 on November 17. Be sure to have a look at all of our E3 2017 coverage for more from the show!