Star Wars Battlefront gameplay trailer shows Hoth multiplayer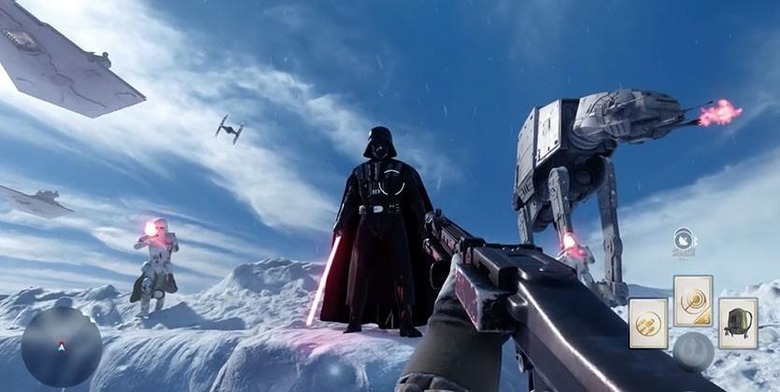 It's time to get busy from a first-person perspective with Star Wars Battlefront. This is a game that'll be released on multiple platforms in late 2015 – near the release of the movie Star Wars: The Force Awakens. This game will have you taking part in several classic battles from the Star Wars films as well as some never-before-seen battles – and of course you'll make it all your own with gameplay that's entirely up to you. This game will include 40-player multiplayer battles, one of which you're about to see today.
In this trailer you're going to see battle on Hoth, the ice planet featured in the first segment of Star Wars: The Empire Strikes Back. This battle is "reminiscent of The Battle of Hoth," as EA Games suggests. That means you're not going to be doing the exact same stuff Luke and crew did in the movie. It'll be much more exciting than that.
In the gameplay trailer you're seeing here, you'll take on the perspective of both a Rebel Trooper and a Snowtrooper. You'll see how a battle such as this works from both ends of the spectrum.
You'll be running around as a troop for part of the game, but you'll also have the ability to roll out in a snowspeeder. You'll be able to fly this vehicle from a 3rd-person perspective or from within the cockpit – we're guessing you're going to want to stick to the view where you can actually see your enemies.
You'll also see some TIE-fighter gameplay. You're not fighting in space – this is a land-based battle game – but you're knocking out your enemies in a TIE-fighter nonetheless.
You'll also take on the role of Darth Vader and Luke Skywalker. Imagine Luke having met Darth Vader on the ground on Hoth. That's what you're going to be able to experience here.
Also Luke has his black glove on already which makes no sense. But who are we to question? This is madness – and it's awesome!