Star Wars: Battlefront 2 won't include Season Pass and may nix DLCs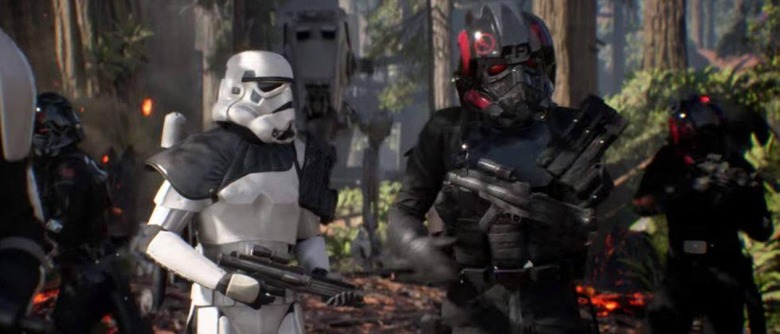 Star Wars: Battlefront 2 was officially unveiled this weekend following a major leak of the entire teaser trailer. Now that the first round of details have been made official, the smaller, more pertinent info is becoming available, and among it are details about the Season Pass. Namely, the game won't include one. Whether that means the game won't offer DLCs is unclear, but DICE's creative director Bernd Diemer indicates there may be something better in the pipeline.Battlefront 2, of course, is the sequel to DICE's 2015 release Star Wars: Battlefront. With the first game, DICE released additional content as four DLCs that users could pre-purchase ahead of time via a Season Pass. A Season Pass, of course, is preferable for those who plan to get all the DLCs, as it generally comes with a decent discount overall.
The Star Wars: Battlefront DLC releases were something of a problem, though, in that the core game itself — before the first DLC arrived — was sorely lacking. Despite its full $60 price tag, the game didn't have a story mode, and instead relegated gamers to online gameplay or boring local battles. Users, as you'd expect, weren't happy about this and felt the game was lacking in content for a long while.
That's not to say that Battlefront isn't a great game, because it is...but it could be better, and that's where Star Wars: Battlefront 2 comes in. Speaking recently to Mashable, Diemer revealed that buyers won't be able to get a Season Pass. While he didn't go so far as to say DLCs won't be offered this time around, he did tease that something different is in the pipeline, and that it'll (hopefully) be better. He explained:
When we looked at the way Battlefront had evolved over its lifetime, with the DLC and everything, we decided, 'You know what? For this type of game, season passes are not the best thing. We need to [take it apart] and come up with something better ... I cannot talk about the specific of this, but we have something different in mind that will allow you to play longer, be [more] invested in the game without having a fragmented community.
The fragmentation he refers to revolves around the aforementioned DLC packs, which concealed a considerable amount of maps and gameplay behind a paywall — users either bought a Season Pass, bought the packs individually, or were left to play the maps and game modes available under the core game itself, never getting access to things like Cloud City, the Death Star, and the Rogue One map.
What DICE has planned, though, is still unclear at this time. Star Wars: Battlefront 2 will be available this upcoming October.