This week the folks at Paramount Pictures have released a very special app for the next blockbuster science fiction film in the Starfleet universe: Star Trek Into Darkness! This app is not just your everyday average movie companion app, it's a straight up scavenger hunt that uses the camera on your smartphone as well as the sensors you've got under the hood of your device to sent you out into the wild to collect a series of media bits as well as real physical location markers. This technology is made real with Qualcomm Labs' Gimbal technology and Qualcomm Vuforia augmented reality platform.
Interestingly enough, the Qualcomm technology we're using here in this app isn't limited to the Qualcomm processor you may or may not have in your smartphone or tablet device. Instead its built in to the app itself, allowing you to use the app on essentially any iOS or Android device you've got on hand. This app takes you diving directly into the Star Trek universe with a selection of media bits you unlock yourself, each available right out of the box or revealed at a later date as we drive closer to the final release of the movie itself.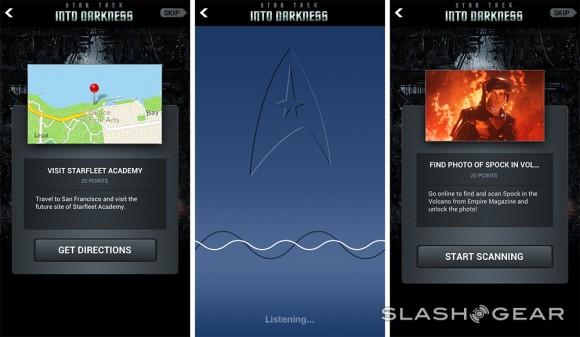 The original announcement of this app took place back on January 7th at CES 2013 where Qualcomm's CEO Paul E Jacobs made it clear that the company here demonstrates the ability to "harness the power of the smartphone to bridge the digital and physical world" with Gimbal! In addition to collecting images with your smart device's camera, you'll be playing sounds with your computer that your smartphone hears and recognizes and actually moving out into the real world (outside your office or home) to find the full collection of locks.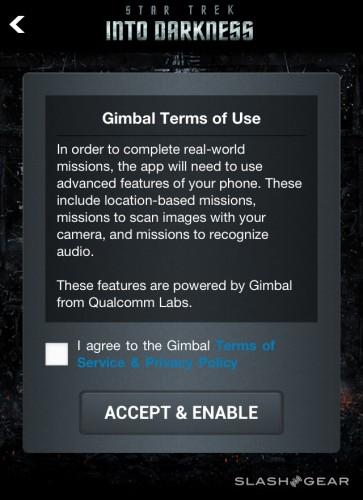 This app uses a geofencing function that has you heading to specific GPS-based lock points – and the Star Trek Into Darkness movie itself down the line. This app currently brings a series of photos and video to the viewer that they'd otherwise (for the most part) be able to grab online if they know where to look – but the finding of everything is fun, and the content can be used as wallpapers, lock screens, and more, and it's all sized appropriate to the device you've got on hand – iPhone 5 for us here in this test.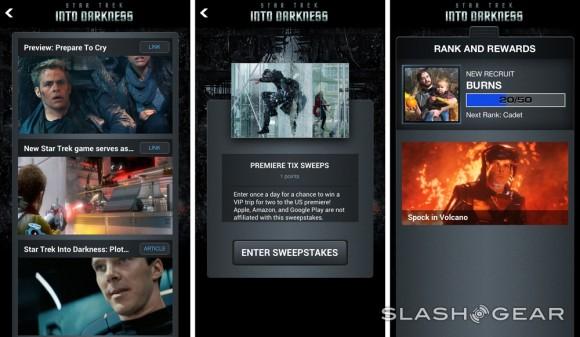 The real reason you're going to want to download this app is to stay up to date on Star Trek Into Darkness news straight from the source and to attain exclusive opportunities you wont be able to get anywhere else. You can get this app right this minute for free from the iTunes App Store or the Google Play App Store by heading to the Star Trek Movie website right this minute. You can also simply search for "Star Trek App" and poof! There it will be – believe it or not!
Star Trek Into Darkness will be released to theaters in May 17th, 2013, and you'll be blown away by everything inside it. Without a doubt. Stay tuned to our Star Trek tag portal for more information and news updates galore up until and through that time too!