Captain Picard is back: Patrick Stewart confirms new CBS Star Trek series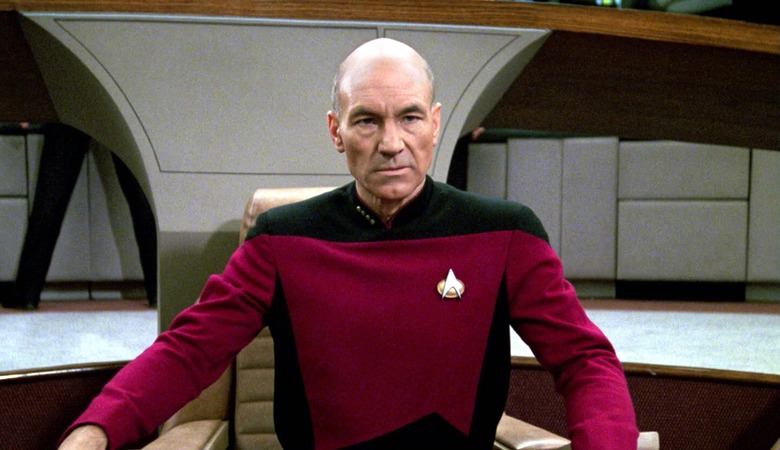 Captain Jean-Luc Picard is to return, with Sir Patrick Stewart again to star as the iconic Star Trek character in a new series. The show, as-yet untitled, will be made for CBS All Access, with Stewart confirming the news today on his Twitter account and in an announcement at the Star Trek convention.
Chatter of a potential return for the Picard character began earlier this year. CBS had inked a five year deal with Alex Kurtzman, the show runner for Star Trek: Discovery, to make new titles from the Star Trek franchise. At the time, the only confirmed titles would be a new series based on the Wrath of Kahn movie, along with a series about the Starfleet Academy, and an animated series yet to be detailed.
However, the rumor mill pointed to Picard – and Stewart – being involved as well. Picard took the helm of the Starship Enterprise in Star Trek: The Next Generation first in 1987, the second captain of the ship, and taking place 99 years after the first five-year mission detailed in the original Star Trek series. Despite initial skepticism, over seven years of broadcast – and several movies – it proved a ratings hit.
A large part of the appeal was undoubtedly Stewart's portrayal of Picard, a very different captain from the original series' Kirk, played by William Shatner. By the time of the final movie he stared in, however, Stewart says he was at an end with the character.
"I will always be very proud to have been a part of Star Trek: The Next Generation, but when we wrapped the final movie in the spring of 2002, I truly felt my time with Star Trek had run its natural course," he said today in a statement. "It is, therefore, an an unexpected but delightful surprise to find myself excited and invigorated to be returning to Jean-Luc Picard and to explore new dimensions within him. Seeking out new life for him, when I thought that life was over."
Details of the show are in short supply at this stage. Beyond Stewart's involvement, and that of Kurtzman, and the fact that it will be a project for CBS All Access, nothing has been announced. It's unclear when the series will be set and in what context. However, for Stewart, it's the perfect time to return to a character known for his nonjudgemental approach and his commitment to science.
"During these past years, it has been humbling to hear stories about how The Next Generation brought people comfort, saw them through difficult periods in their lives or how the example of Jean-Luc inspired so many to follow in his footsteps, pursing science, exploration and leadership," Stewart said today. "I feel I'm ready to return to him for the same reason – to research and experience what comforting and reforming light he might shine on these often very dark times. I look forward to working with our brilliant creative team as we endeavor to bring a fresh, unexpected and pertinent story to life once more."
It is an unexpected but delightful surprise to find myself excited and invigorated to be returning to Jean-Luc Picard and to explore new dimensions within him. Read my full statement in the photo. #StarTrek @cbsallaccess Photo: @shervinfoto pic.twitter.com/8Ynuj3RBNm

— Patrick Stewart (@SirPatStew) August 4, 2018