Star Kart mixes Mario Kart with Star Wars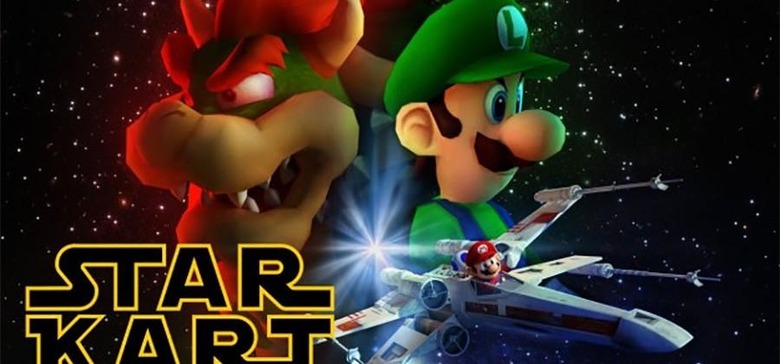 If you love Star Wars and Mario Kart, you will like this mash up of the two. The mash up is a fan made video that was created by Dark Pixel. The short YouTube movie reportedly took a year to make and the finish makes it look like a professional film. The places the characters in the film race are right out of Mario Kart.
Some of the racing action is done in hyperspace with some racing on planets that Star Wars fans will be familiar with. In the video, the racers pick up the power ups that we are used to seeing like turtle shells, banana peels, and others. There are also coins and rings that racers go through.
Each of the Mario Kart racers is driving a Star Wars fighter of some sort including the X-Wing for Mario, Shy Guy gets to fly Boba Fett's ship, and Yoshi is in a Y-Wing and a Tie fighter for Bowser. Mario even gets to make a trench run on the Death Star. Every time I see a video like this, I always wonder if Disney will file suit. Disney likes to protect its IP with vigor.
If you live under a rock and don't know, Star Wars: The Force Awakens is doing very well at the box office. The film launched on December 18, 2015 and has racked up a massive box office take so far. The film has raked in $1.961 billion costing only $200 million to make. Fans might be saddened to hear that the new Star Wars flick isn't expected to break the record set by Avatar. Most Star Wars fans are just happy that The Force Awakens was good and didn't leave us angry like the three previous films did.
SOURCE: Geek.com