SSBB tourney winner takes home this Swarovski-covered Wii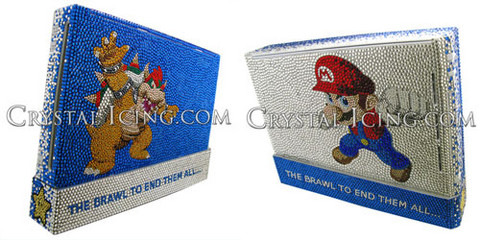 Remember that big Super Smash Bros. Brawl tournament that I told you about not too long ago. I'm not talking about the one at GameStop, but rather the one put on by Nintendo. Well if you were wondering what the winner's Wii looked like, here's a nice view.
Mario on one side, Bowser on the other. In case you hadn't guessed, those are Swarovski crystals. 20,000 to be exact. If you're wondering what something like this would cost, it'll set you back about four grand.I think my head needs checked because overall, I don't think this looks half bad. Sure,the top and front look like they'd be a bit cheesy, however Mario and Bowser look pretty cool all decked out in crystals.
[via Kotaku]