SRT Names New Viper Hue Competition Blue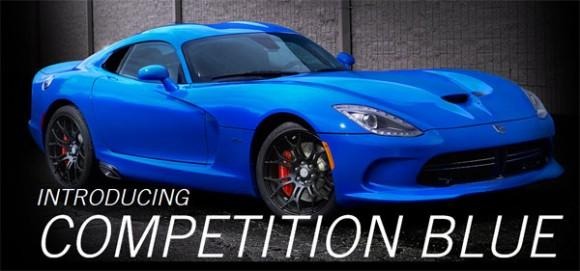 SRT has been running a contest for months to let fans of the 2014 Viper choose the name for a cool new blue color being added to the available options. SRT says that there were over 11,000 color names submitted in the contest and the name chosen by voters is Competition Blue. The SRT blue color reminds me very much of a shade Ford has used for years on Mustangs called Grabber Blue.
The Competition Blue Viper was on display at SEMA in Las Vegas earlier this month. Also on display was a bunch of the accessories SRT has available for the Viper. One of those accessories was a slick carbon fiber X-brace that goes under the hood to add rigidity to the car, replacing the plain aluminum one that comes stock.
Other than a new color option and some new accessories, the mechanicals of the 2014 SRT Viper are similar to the 2013 Viper. The heart of the car is a massive V-10 engine. The engine displaces 8.4-liters and produces 640 hp.
Power is delivered to the ground via a 6-speed manual gearbox. SRT says that the vehicle is good for a top speed of over 200 mph. The SRT Viper weighs 3300 pounds and has a 49/51 weight distribution. The car is also fitted with launch control, traction control and other niceties to make the massive power livable on a daily basis. The 2014 Viper will also come in a TA model ready to hit the race track. The 2014 SRT Viper starts at $102,485.
SOURCE: SRT