Square processing racks up huge numbers processing mobile payments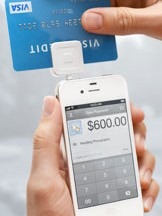 We have heard a lot about Square over the years, this was one of the first companies to offer a credit card scanner for the iPhone. I remember at the time thinking it was pretty cool, but not expecting it to do all that well. I was wrong on it not doing well. Square has announced that it is making some changes and along with those changes, it offered up details on how many users it has.
Square is now processing more than $2 billion in payments each year. It also has 800,000 merchants signed up. The numbers make Square count for 10% of the Visa and MasterCard world. The new changes are significant for some users. Square has now dropped the limit on transactions processed weekly before the funds are held. The limit was $1,000 per week before.
After that $1,000 was reached, anything above that in a week was held for as long as a month. Users can now process as much as they can. The per transaction fee of 15 cents was dropped already this year and the removal of the limits makes Square look even better to some users. The goal according to Square is to make it where people don't need merchant accounts.
[via TechCrunch]