Spy-stick keeps an eye on your kids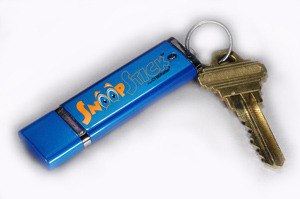 Let's face it, you can't trust your kids.  Give them an inch and they'll take your credit cards, laptop and cellphone and run up huge charges on pay-per-view sex sites.  So thank the sweet mother Bertie that fear-fuelling companies like CYBERsitter are around, with their remote tracking USB SnoopStick.
The SnoopStick is a two-pronged approach to monitoring your children.  First off, you plug it into the family PC and install the software client; CYBERsitter promise that it's completely invisible, so tech-savvy junior can't spot it.  Then, while you're out sipping gin with your friends and have a sudden Spidey-Sense tingle that your daughter is chatting with a sex offender, you can plug the SnoopStick into your friends' computer and it instantly connects online with the home PC.
Then you can monitor both sides of IM conversations, check what sites are being viewed, even send pop-up messages to warn your XXX-hungry son that his saucy-surfing days are numbered and you're about to log him off.
The full feature list is pretty scary:
Monitor all web site access.
Works with all browsers and web enabled programs.
Monitor both sides of all "instant messenger" communications.
Works with all popular IM programs.
Monitor all email access (SMTP, POP3, IMAP) to see who and when emails were received from and sent to.
Monitor activities in real time, or retrieve activity logs from recent activity.
SnoopStick records everything, whether you are monitoring in real time or not.
Store up to 12 months of activity logs directly on your SnoopStick.
All program modules are updated completely automatically so you always have the latest version.
Send the user a pop up message alert. A good way to tell them they're busted!
Turn off/on Internet access with the SnoopStick locally or remotely.
Set allowable times for Internet access.
Prevent users from using certain types of Internet programs.
Block access to specified ports.
Block access to web sites.
One click "Block Social Networking" option instantly blocks access to sites like MySpace.com.
Completely secure. Only your SnoopStick can access your computer or change the settings you have chosen.
Works with Windows 2000, XP, 2003, and is Vista ready.
Thank goodness you don't have to teach your children good internet sense or supervise them any more, you can rely on $59.95 gadgets like this instead.