Sprint U300 dual WiMAX & EVDO Rev.A USB modem announced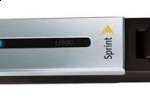 Sprint have officially announced their 3G/4G USB Modem U300, which operates on both the Sprint 3G and Clearwire 4G WiMAX networks.  Set to go on sale in Sprint stores on December 21st, the modem will cost $149.99 after a $50 rebate, and be subject to a new two-year data agreement with the carrier.
In areas where the Clearwire WiMAX network is active – which until January 2009, and the roll-out in Portland, basically means Baltimore - users can apparently expect to see average downlink speeds of 2-4 Mbps.  Outside of there, Sprint's EVDO Rev.A network steps in, with the altogether more pedestrian (relatively speaking) 600 Kbps to 1.4 Mbps.
The U300 USB  modem itself is manufactured by Franklin, and will only be on sale in bricks & mortar stores in Baltimore.  However those outside the area will be able to buy it online and through Sprint's business retail channels.  Clearwire WiMAX subscription will be priced from $79.99, $20 more than a standard Sprint EVDO data contract.
Press Release:
Sprint Extends 4G Leadership with Nation's First 3G/4G Dual-Mode Mobile Broadband Service

The ultimate wireless broadband device delivers both 3G and 4G, revolutionizing mobile broadband and giving customers the best of both worlds

OVERLAND PARK, Kan.–(BUSINESS WIRE)–Dec. 17, 2008–Sprint (NYSE: S) is about to make wireless history again by bringing the mobile broadband future to its customers now. The 4G leader announced it will make the first 3G/4G dual-mode device, which operates on both the Sprint 3G and 4G networks, available in retail stores Dec. 21.

The Sprint 3G/4G USB Modem U300 delivers the power of the Now Network(TM), the nation's largest and most dependable mobile broadband 3G network*, while also harnessing the turbocharged speeds of WiMAX on the new Sprint 4G network. Sprint launched 4G in Baltimore in September and plans to launch in other markets across the country throughout 2009. This versatile device will enable customers to experience blazing fast Internet access, greater productivity and enhanced multimedia quality throughout 4G markets, and offer access to the dependable Sprint 3G network virtually everywhere else. The 3G/4G USB modem represents another major development in truly un-tethered broadband access.

"Sprint intends to be the leader in 4G and bring the wireless Internet to life," said Dan Hesse, Sprint CEO. "This first-of-its-kind device allows our customers to take the Internet with them essentially wherever they go by gaining enhanced speed and capability in 4G markets and the nationwide coverage of our 3G network across the rest of the country."

Sprint 4G represents a shift in the way people will use mobile broadband. Businesses, consumers and governments will be able to extend their Internet experience beyond home or office use. For the business customer, a typical user experience might be the ability to participate in a video conference from anywhere within the coverage area in a Sprint 4G city while sharing and retrieving large data files in just seconds. For consumers, it might be the ability to download a song in several seconds or a movie in significantly less than an hour while in the park or moving through the city, three to five times faster than 3G networks. The Sprint 3G/4G USB modem will access mobile multimedia applications at average downlink speeds of 2-4 Mbps within Baltimore Sprint 4G service areas. Where Sprint 4G service has yet to launch, the dual-mode device will operate on the Nationwide Sprint Mobile Broadband 3G Network at average downlink speeds of 600 Kbps – 1.4 Mbps.

The Sprint 3G/4G USB Modem U300, manufactured by Franklin Wireless, is a sleek, easy-to-use data card which connects to a standard USB port. The device is priced at $149.99 with a two-year subscriber agreement, after a $50 mail-in-rebate. Beginning Dec. 21, customers can purchase the USB data card via the Sprint direct business sales force, at most Baltimore-area Sprint stores and at select Baltimore-area retailers. Starting in January, the device will also be available in Baltimore-area Best Buy stores. With the Sprint 3G/4G USB Modem, customers living in and traveling to Baltimore will be able to work even faster while on-the-go. For $79.99 – just a $20 premium on any mobile broadband connection plan – customers will have simple-to-use access to the best possible mobile broadband connection: 3G or 4G. The Sprint Connection Manager recognizes and connects to the fastest connection available. For more information, visit www.sprint.com/4g

"The availability of this first dual-mode mobile broadband device further demonstrates Sprint's leadership in 3G and 4G services," said Todd Rowley, vice president of Sprint 4G. "Our future device portfolio of single-mode 4G devices, embedded 4G laptops and dual- mode 3G/4G devices will continue to demonstrate our commitment to WiMAX."

Sprint is the first and only national wireless carrier to offer customers its 4G network and 3G network on one device. As 4G service continues to roll out in other cities, Sprint customers with dual-mode devices will be ready to take advantage of its super-fast speeds and will ultimately experience new forms of interactive communications, high- speed mobile Internet browsing, social-networking tools, local and location-centric products and services and city-wide broadband access to multimedia services including music, video, mobile TV and on-demand products.

About Sprint Nextel

Sprint Nextel offers a comprehensive range of wireless and wireline communications services bringing the freedom of mobility to consumers, businesses and government users. Sprint Nextel is widely recognized for developing, engineering and deploying innovative technologies, including two wireless networks serving nearly 51 million customers at the end of the third quarter 2008; industry-leading mobile data services; instant national and international push-to-talk capabilities; and a global Tier 1 Internet backbone. For more information, visit www.sprint.com.

About Franklin Wireless

Franklin Wireless Corp. (OTC BB:FKWL.OB – News) designs and markets wireless broadband high speed data communication products such as 3rd generation ("3G") and 4th generation ("4G") wireless broadband modules and modems to end users and wireless companies in North and South American countries. It markets its products through original equipment manufacturers (OEMs) and distributors, as well as directly to operators and end users in North and South America. The company was founded in 1982 and is headquartered in San Diego, California. For more information about Franklin Wireless, please visit www.franklinwireless.com.

For more information about the Sprint 3G/4G USB Modem U300, visit www.sprint.com/4g

* Largest based on square miles (including roaming). Dependable based on independent, third-party drive tests on 3G data connection success, session reliability, and signal strength for the 50 most populous markets from March through September 2008.