Sprint U1901 4G Modem Only For Those Bathed In WiMAX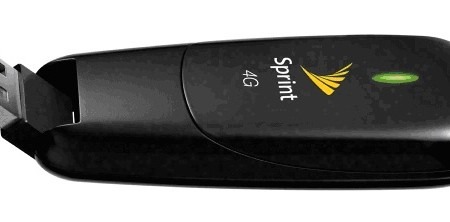 Sprint's latest 4G-capable modem has arrived, but you'll have to be sure of your WiMAX coverage if you want to make the most of it.  Unlike the existing Sprint 250U, which works on both 3G and 4G networks, the new Sprint U1901 will only connect to WiMAX.
Roam outside the 48 areas Sprint currently cover with their 4G network and you'll have no data access whatsoever.  Sprint offer a USB docking cradle with a pair of external antenna ports, so you can hook the U1901 up to a bigger antenna to pull in the best signal possible, but that won't help if the WiMAX roll-out hasn't reached your city yet.
Sprint are yet to confirm pricing for the U1901, but with the 250U currently free with a new, two-year data package agreement we can't see why you'd opt for the 4G-only device.
Press Release:
Sprint 4G USB Device U1901

High-speed Internet access on the go

Built to work specifically with the Sprint 4G Network, Sprint 4G USB Device U1901 is a small, easy-to-use modem compatible with both PC and Mac computers, connecting laptops or netbooks to blazing-fast 4G speeds. It is compatible with Windows® Vista, Windows® XP, Windows® 7, MAC OS® 10.5 and 10.6. U1901 provides access to Sprint 4G wireless speeds up to 10 times faster than 3G1 in those metropolitan areas across the country enabled with the new 4G mobile broadband service. Visit www.sprint.com/4G for a list of Sprint 4G cities launched to date. U1901 is ideally suited for companies wanting to deliver high-bandwidth solutions to workers on-the-go or for remote offices looking to provide basic DSL-like speeds2 to workers in the metro area. U1901 is also an affordable option for value-conscious, highly-mobile Internet users, such as high school and college students who want to browse the Web, send and receive e-mail, access information, and explore social networking and multimedia entertainment.

ADVANCED FEATURES:

Sprint SmartViewSM software installation via CD

Equipped with two external antenna ports for improved performance

when plugged into the separately sold docking cradle

(visit sprint.com/accessories and select U1901)

Flip-up USB connector

Easy hands-free activation

Sprint 4G provides peak download speeds over 10 Mbps (average download

speeds of 3-6 Mbps)

SPECIFICATIONS:

Dimensions: 3.15 inches (h) x 1.2 inches (w) x 0.59 inches (d)

Weight: 0.9 ounces

Chipset: Beceem BCSM250

Compatibility: Windows® Vista, Windows® XP, Windows® 7,

MAC OS® 10.5 and 10.6 with Intel platform.