Sprint Premiere Customers Get a Chance to Win an HTC EVO 4G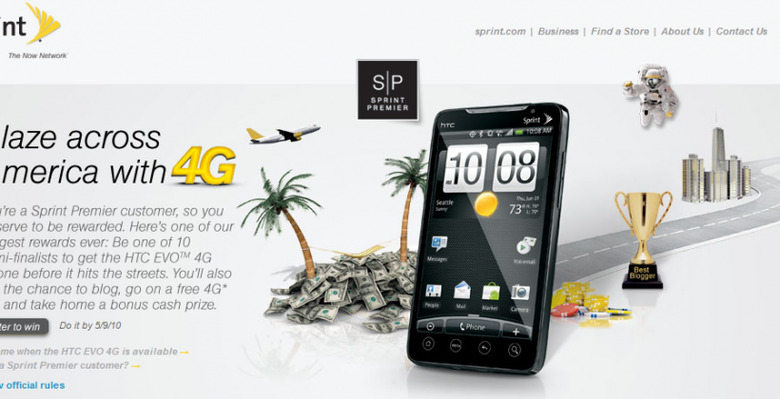 There's definitely something about being a member of something, no doubt about that. If you happen to be a Sprint Premiere Customer, then you've just got a ticket to one of the best giveaways to date. You've heard about the HTC EVO 4G, right? It's Sprint's first 3G/WiMAX device, and it's the sibling to the HTC HD2, so we understand that you might be excited about it. So, if you fit the bill, you might want to read on.
Sprint is offering Premiere Customers the chance to win one of 10 HTC EVO 4G handsets, plus a lot more. But, before you get too excited, here's what you'll have to do: write up 150 words (or less, if you're creative enough) and tell the judges what you can do "really fast," just like Sprint has done with their latest 4G commercials. We'd be willing to bet that if you're collection of words is entertaining enough, or memorable, you've got a better shot at winning the ultimate prize.
Ten people will win the handset, plus a year's worth of free service, and you'll even get the chance to blog about your experiences with the Android 2.1-loving handset on an official Sprint page all the way up to the end of August. But, four of those ten will get a vacation to a Sprint 4G-enabled city for an extended Summer weekend. Keep in mind that you've got to be Premiere Customer to even qualify, and winners will be notified on May 18th. And you've only got until May 9th to enter, so make it snappy. Check out our hands-on with the HTC EVO 4G below if you need a refresher.
[vms 77a97fc38f3421614151]
[via Sprint]