Sprint Officially Announced the Treo 700wx Smartphone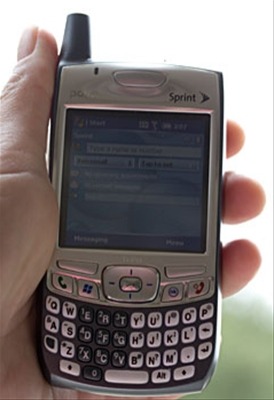 Today's announcement of Treo 700wx from Sprint shouldn't be a shocker to anyone. SlashGear along with all the other gadget and phone sites in the blogosphere have been covering this rumor for sometime now. The 700wx is nearly identical to the Verizon 700w, with the exception additional RAM allocated for usage. Also, in case you didn't know, the Treo 700wx runs Windows Mobile 5.0 Pocket PC, featuring XScale 312MHz CPU, SDIO slot, 128MB NVRAM (60MB user), dual-band EV-DO / 1xRTT, 1.3 megapixel camera, Bluetooth 1.2, IR, 240 x 240 touch screen and QWERTY keyboard.
Sprint is offering an instant savings of $150 off the regular price of $649.99, if you add a new line of service to your order and choose a 2-year Sprint Advantage Agreement. Current customers need to check Sprint's website for eligibility of a rebate.TreoCentral already posted a first impression; the reviewer Dieter Bohn thinks that the 700wx rocks. Check out the 10-minute video of the 700wx for all the main features, or you can run out to your local Sprint retail store and play with the new smart phone yourself.