Sprint Motorola i365IS 'Intrinsically Safe' rugged cellphone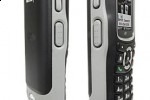 Sprint have announced the Motorola i365IS, where the "IS" stands for "Intrinsically Safe".  According to Sprint, the i365IS "is incapable of releasing sufficient electrical or thermal energy to ignite fuel and cause a fire or explosion" and is safe to use in areas containing flammable gasses, vapors or dust.  Personally, I'd like any cellphone I use to be incapable of exploding, but maybe that's too much to ask.  As well as promising not to go supernova in your front pocket, the i365IS has push-to-talk (PTT), military-spec ruggedization and Bluetooth.
You're not getting a high-definition screen ideal for the latest ripped DivX movie – in fact 130 x 130 with 64k colors is your lot – but there's a speakerphone, MMS, embedded GPS and multi-line support.  The i365IS supports all the latest PTT services, including Group Connect, International Direct Connect (well, if by International you mean Mexico and Canada) and short-range non-cellular Direct TalkSM.
The Motorola i365IS is seemingly not yet available from Sprint, though the basic non-IS i365 is priced at around $90 with a new two-year agreement.  Sprint haven't announced availability or pricing for the new handset yet.
Press Release:
i365IS by Motorola

When safety comes first

Not everyone needs an intrinsically safe-rated device, but those who do will appreciate the safety provided by the i365IS (intrinsically safe). The i365IS combines Sprint's more than 15 years experience in push-to-talk with a device that is incapable of releasing sufficient electrical or thermal energy to ignite fuel and cause a fire or explosion. Intrinsically safe devices are safe to use in hazardous areas that may contain flammable gasses, vapors or dust.

Sprint is the undisputed leader in push-to-talk, serving the largest community of users in the world. Nextel Direct Connect has set the industry standard for push-to-talk and serves millions on the fastest national push-to-talk network, and offers international push-to-talk services. Nextel Direct Connect also offers call set up times of less than one second.

NEXTEL DIRECT CONNECT1:

Direct Connect® – Instant, one-to-one push-to-talk communication nationwide with any other Nextel1 Direct Connect subscriber.

Group Connect® – Communicate or coordinate activities with up to 20 other Nextel Direct Connect subscribers all at once – nationwide, quickly and easily. Create and manage groups dynamically on your phone.

International Direct ConnectSM – International Direct Connect Calling lets you instantly connect from the U.S. to users in other eligible countries including Canada and Mexico. In addition, International Direct Connect Roaming lets you make and receive push-to-talk calls while traveling in those countries.1

Direct TalkSM – The all-digital off-network push-to-talk service that works anywhere, anytime between compatible phones for short-range communications (range will vary based on terrain and conditions and in-building performance). Direct Talk is a reliable back-up communications tool in times of emergency, network outage, or when working in or traveling to remote areas where coverage is not available.1

Direct SendSM – Send pictures or contact information to other Direct Send-capable phones...with a quick push of the button!1

NextMail® – Send voice messages to any email address anywhere using your Direct Connect button! NextMail lets you communicate with others via email on the go without typing. You can also incorporate NextMail into your daily operations to document and track activity; even use customizable subject lines to prioritize, sort and file critical communications.1

SAFETY FIRST:

Intrinsically Safe2: The i365IS offers a protection technique for safe operation of electronic equipment in explosive atmospheres, when used with IS battery and accessories.

Bundled Advanced Features (AFU)

Emergency Group Call – Takes priority over all other phone activities and makes a special emergency tone in the phones receiving the call. In an emergency, reach everyone in your group instantly.

Multi-Simultaneous Talk-Group – Listen to up to four talk groups at a time. Don't miss any important details or safety information.

Isolated Site Operation – Allows user to continue to make and receive group calls on the hub last used, even if the connection is lost. Ensures that no one is left behind.

Status Messages – Send call alerts that include predefined text messages to get right to the point.

Ultra-Rugged Design: The i365IS is a rugged and durable monolith handset certified for military specification requirements including humidity, blowing rain, dust, shock and vibration.

PRODUCTIVITY:

Second Line Service: Second Line Service adds a second line to your phone. One line for business, one line for personal, or perhaps two business lines, with different area codes. Separate Billing for second line is also available.1

Multimedia Messaging Service: Send or receive Multimedia Messages (either audio, images, text, or all three in the same message) to or from email addresses and other capable users. You can even wirelessly store multimedia on the Sprint web site.

GPS Navigation: Features embedded Global Positioning System (GPS) chip necessary for utilizing the E911 emergency location services where available, and receiving audible and visual turn-by-turn driving directions, mapping your location, or conducting local searches direct from your handset. 1 2

Bluetooth®: Enables hands-free, short-range wireless communication using a Bluetooth headset and wireless uploading/downloading to or from a computer.

Speakerphone: Safe, hands-free conversations always available with built-in speakerphone.

SPECIFICATIONS:

Form factor: Intrinsically safe, Mil-spec certified ruggedness in a monolith form factor

Dimensions: 5.3" x 2.1" x 1.2" Weight: 7.05 ounces

Network: iDEN® 800/900 MHz for Nextel Direct Connect1, interconnect and data

Display: 64K colors; 130 x 130 monolith

Battery Specifications: Max Capacity Li-Ion

Talk Time: Approximately 300 minutes3

For more information visit www.sprint.com

Certain mobile phone features may not be available throughout the entire network or their functionality may be limited. All features, functionality and other product specifications are subject to change without notice or obligation.

1 Network dependent feature, not available in all areas. Airtime, data charges, and/or additional charges may apply. PTT connectivity requires PTT compatible phones.

2 Intrinsic safety (IS) is a protection technique for safe operation of electronic equipment in explosive atmospheres. The theory behind intrinsic safety is to ensure that the available electrical and thermal energy in the system is always low enough that ignition of the hazardous atmosphere cannot occur. This is achieved by ensuring that only low voltages enter the hazardous area, and that all electric supply and signal wires are protected by zener safety barriers.

3 All talk and standby times are quoted in Digital Mode, and are approximate. Battery performance depends on network configuration, signal strength, operating temperature, features selected, and voice, data and other application usage patterns.