Sprint LG Rumor2 gets official: $50 on March 15th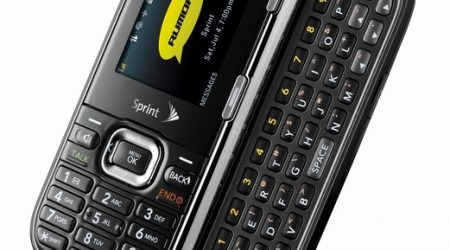 Sprint have announced the LG Rumor2, the sequel to the popular Rumor messaging handset, complete with a full QWERTY slide-out keyboard, 1.3-megapixel camera, QVGA display and stereo Bluetooth.  The Rumor2 also includes GPS – with Sprint Navigation preloaded – and a media player happy with microSD cards up to 16GB in size.
Other specs include access to webmail accounts and corporate email (the latter via the Sprint Mobile Email Work system) and two interchangeable back covers so you can "personalize" your Rumor2.  The most significant change from the original LG Rumor is an extra row of keys on the QWERTY 'board, which should make typing messages a whole lot easier.
The Sprint LG Rumor2 will be available on March 15th in Black Titanium and March 29th in Vibrant Blue, with both versions priced at $49.99 following a $50 mail-in rebate (and assuming you sign up to a new two-year agreement).  The carrier is also pushing their Everything Messaging Plan, which offers unlimited text, picture and video messaging - among other things – for $49.99 per month.
Press Release:
Fashionable and Functional LG(R) Rumor2 TM, Exclusively from Sprint, Makes it Easier Than Ever to Manage Messaging, Voice and Data Needs for Any Budget

Sprint's Everything Messaging plan pairs perfectly with the affordable LG Rumor2 for one of the best values in wireless

OVERLAND PARK, Kan. & SAN DIEGO–(BUSINESS WIRE)–Mar. 12, 2009– Sprint (NYSE: S) and LG Electronics MobileComm U.S.A., Inc. (LG Mobile Phones) today announced the upcoming availability of the LG Rumor2, the next generation of the highly popular and successful LG Rumor. Perfect for customers who want an affordable phone that keeps them connected just about anywhere they go at a great value, the new LG Rumor2 features a full sliding QWERTY keyboard for enhanced messaging, email and social networking as well as stereo Bluetooth®, a 1.3 megapixel camera and a large QVGA display. It also features a removable backplate, allowing users to personalize their phone. LG Rumor2 will be available exclusively from Sprint for just $49.99 with a new two-year service agreement after a $50 mail-in rebate.

The original Rumor by LG quickly became one of Sprint's best selling CDMA devices when it launched in late 2007. The new version packs value and productivity with an expanded QWERTY keyboard with an additional row for easier typing, increased screen resolution to QVGA clarity, stereo Bluetooth® and an extra enclosed battery cover for greater personalization options.

As a perfect complement to LG Rumor2, Sprint offers an affordable Everything Messaging Plan that lets customers take advantage of the phone's messaging features at a great value. The plan includes 450 anytime minutes, unlimited night and weekend minutes starting at 7 p.m., unlimited mobile-to-mobile minutes, plus unlimited text, picture and video messaging – all for just $49.99 per month (excluding taxes and surcharges). This plan provides a savings of $120 per year vs. comparable AT&T and Verizon plans.1

"LG Rumor2 gives customers the benefits of Sprint's Now Network on a phone that's attractive and affordable, appealing to anyone who needs the ability to quickly send off a text or PictureMail," said Kevin Packingham, Sprint's senior vice president of product and technology development. "Staying connected to your family, office or even social networks has never been as easy and cost-effective as it is with the pairing of this device and Sprint's Everything Messaging pricing plan. In today's economic climate, it is great to know you don't have to compromise to get a good value in wireless."

"LG is proud to offer consumers the Rumor2, which is an updated version of one our most popular messaging devices, the Rumor," said Ehtisham Rabbani, vice president of product strategy and marketing for LG Mobile Phones. "Through listening to consumer feedback, we've taken the successful components of the original slider phone, and made the device more impressive by including battery covers for personalization and an extra row of keys on the keypad to make texting even easier."

Families can take advantage of unlimited messaging on LG Rumor2 with Sprint's Everything Messaging Family plan. At an annual savings of $240 vs. Verizon and AT&T,2 this plan allows two customers to share 1,500 minutes, including free nights starting at 7 p.m. and weekends, and unlimited texting, picture sharing and video messaging, for $99.99 per month (excluding taxes and surcharges).

Music lovers will value LG Rumor2's MP3 player with microSD memory card slot with 16GB card capability (card sold separately). Preloaded with Sprint Navigation, it provides full-feature GPS navigation, including voice and on-screen, turn-by-turn driving directions and more than 10 million business listings. Also, easy access to Microsoft Exchange Server and IBM Lotus Notes accounts will be available through Sprint Mobile Email Work, as an extension of Sprint Mobile Email's existing access to personal email accounts from popular Web-based providers such as AOL, Gmail, Windows Live™, Hotmail® and Yahoo! Mail. Sprint Mobile Email Work will allow users of the LG Rumor2 to access both their corporate and personal email in one easy-to-use application, included at no additional charge in several Sprint pricing plans.

LG Rumor2 will be available in two color options: Black Titanium and Vibrant Blue. LG Rumor2 measures 4.4" x 2.1" x 0.7" and weighs just 4.23 ounces. It will be available on March 15 in Black Titanium and on March 29 in Vibrant Blue at www.sprint.com and 1-800-Sprint1.

Beginning on April 19, LG Rumor2 will be available in all Sprint retail channels. Sprint guarantees friendly service with Ready Now, an exclusive Sprint experience that offers hands-on training and setup for customers at Sprint stores nationwide.

In addition to operating two high-performing wireless networks, Sprint operates America's most dependable 3G network*, providing customers blazing fast 3G speeds when accessing the mobile Web, NFL Mobile Live, email and various social networking sites – wirelessly and on the go.