Sprint Instinct HD by Samsung Review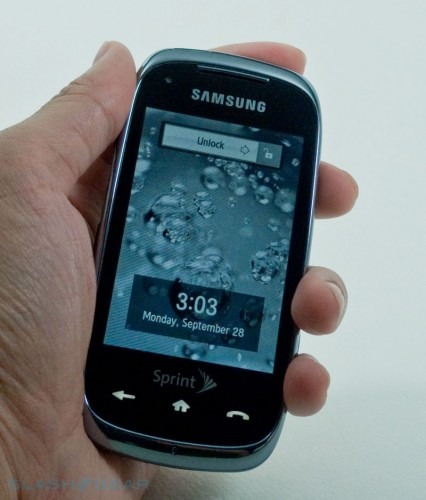 Samsung's original Instinct surprised many when an eager public turned it into one of Sprint's most successful devices, so it's little surprise that the carrier are now expecting similarly impressive things from its successor, the Instinct HD. High-Definition is certainly one of the more popular buzzwords around right now, so you can't argue with Sprint's branding onus; the big question is whether the device itself lives up to the billing. Check out the full SlashGear review after the cut.
One thing Sprint's customer service reps will probably tire of explaining is that, despite the name, the handset can't actually show HD video itself. The touchscreen runs at 320 x 480; instead, the HD suffix refers to the phone's ability to output 720p high-definition via an optional HDMI cable, together with the 5-megapixel camera's recording of 720p 30fps footage. Of the two, we'd wager more users will get mileage out of the camcorder functionality; like with the iPod nano 5G, the recording abilities might mean you can leave your Flip camcorder at home. Leaving the HDMI cable out of the standard package, though, smacks unduly of cost-cutting, since the functionality it enables is so central to Sprint's positioning of the Instinct HD. Budget $30 to pick it up from Sprint, though since it's a standard mini-HDMI to HDMI cable you can find it far cheaper online.
In the hand, the Instinct HD is an obvious evolution of the original Instinct but with some welcome curves borrowed from the intermediate Instinct S30. Build quality is high and the capacitive touchscreen is both bright and responsive in recognising taps. Unfortunately the same can't be entirely said for the software, which showed a tendency to slow down during more processor-intensive tasks. Frustratingly – since Samsung have picked the decent Opera 9.7 mobile browser and finally given the Instinct HD WiFi b/g – internet browsing is one such example; mobile-versions of sites are generally slick, but full sites can leave the phone sluggish. Ironically, given the Instinct HD's media pretensions, we noticed similar slow-down when browsing large lists of audio and video content.

When you finally do get to the media you want, playback is fair and there's a 3.5mm headphones socket up on top across from the power button. The Instinct HD lacks an equalizer, though, meaning you're limited to the native audio settings which we found a little on the dull side. Still, there's artwork and playlist support, together with a shuffle feature, and you can either load your tracks using the included microUSB to USB 2.0 cable, by putting them onto a microSD card, or by beaming them over via Bluetooth. Happily the Instinct HD's Bluetooth 2.1 supports a fair clutch of profiles, from the mainstream headset/handsfree, through stereo A2DP (and AVRCP remote control) and onto DUN dial-up networking, SPP serial port, OPP Object Push and FTP File Transfer, among others.
Video playback on-device was mixed in its success. As with the first-gen Instinct, Sprint have loaded their Sprint TV video download service, but picture quality is less than impressive. The Instinct HD does better with local content, though we wish Samsung had used one of the AMOLED panels from other handsets in their line-up; in comparison to the better displays around right now, the Instinct HD's is prone to blurring fast-moving scenes. There's also an FM receiver, though unlike the Zune HD there's no support for HD Radio.
As for the camera, it's a welcome 5-megapixels with autofocus and flash, and we've been surprised by the picture quality it's capable of. Like a basic point-and-shoot digicam there are a range of shooting modes, including a nighttime mode that we found actually produced reasonable low-light pictures. Considering the lackluster results most cameraphones produce in less than ideal lighting, that's a pretty big deal. There's a dedicated camera shortcut key on the side of the phone, which doubles as a shutter-release; alternatively, flick into camcorder mode and it starts/stops recording.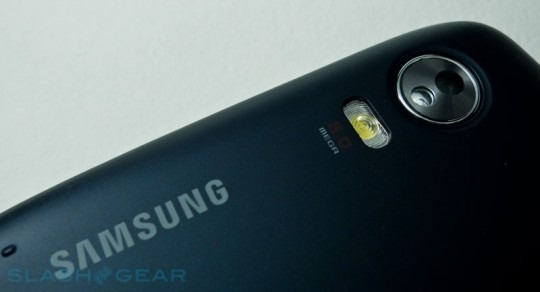 HD recording won't replace a proper camcorder, but is certainly enough to dissuade you from carrying a Flip at the same time. Maximum resolution is 1,280 x 720 at 30fps, obviously with sound, and you can then transfer that footage via USB 2.0 or by swapping out microSD cards. Since sending 720p video via MMS or email isn't advisable, the Instinct HD also offers QVGA and VGA resolutions more suited to the phone's EVDO Rev.A connection. Quality at the highest setting is certainly a noticeable improvement over what most cellphone cameras are capable of, making it doubly frustrating that to watch it on an HDTV you'll need to buy the separate cable.
Out of the box, the Instinct HD supports not only SMS/MMS and POP/IMAP email but Exchange, and the onscreen keyboard is improved over that of the original Instinct. As well as haptic feedback – where the phone vibrates briefly as you tap each key – the 'board can now keep up with faster typing and flips quickly between portrait and landscape orientations. Auto-correction accuracy still lags behind that of the iPhone 3GS, however. There are also Facebook, Twitter, MySpace and YouTube applications, though these lack the desktop "widgets" available on the Android platform. In fact the Instinct HD's menu structure appears little developed over and above the first-gen model, which means you still get the Favorites screen (for prioritizing your most-used apps) and the separate "full" Main pane of app icons. We imagine existing Instinct owners will be pleased at being able to get straight into using the HD without any learning curve, but everyone else may legitimately hope for a more impressive UI.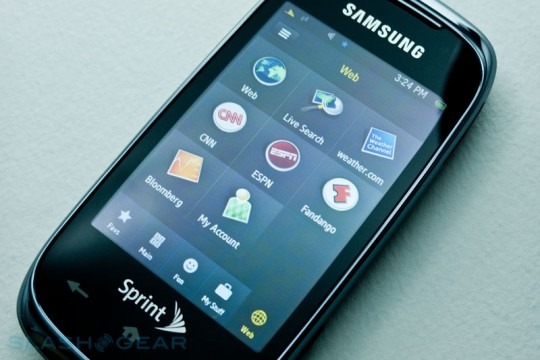 One such criticism is the absence of multitouch support, which many associate as going hand-in-hand with capacitive displays. Our assumption is that this is a limitation of the BREW platform on which the Instinct HD runs; whether or not that's the case, it's a frustration when the iPhone, Hero and Pre all support multitouch gestures like pinch-zooming and finger-swipes.
As a phone, the Instinct HD's microphone stands out as being particularly sensitive. That's a good thing if you tend to speak quietly, but it does mean that the phone can often unduly pick up background noise. The speaker is clear and hiss-free, as is the loudspeaker in speakerphone mode. We're also pleased to see the inclusion of a proximity sensor, which activates the display when you move the Instinct HD away from your face; it makes hitting the numeric keypad to navigate automated menus or adding in a conference caller a speedier matter.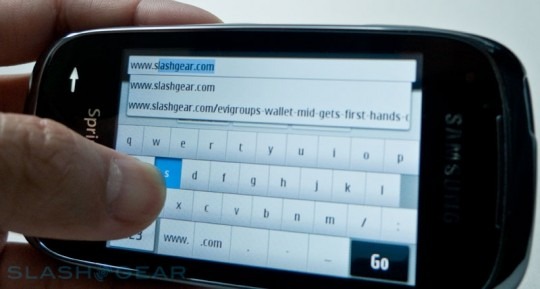 The Sprint Instinct HD by Samsung certainly has some strong features – its camera and, particularly, video capture abilities are good for a mobile phone, and build quality and hand-feel don't disappoint – but we're not sure it advances far enough to keep the Instinct range ahead of the game. It feels very much like a feature phone rather than a smartphone, where the Instinct – in its day – felt like it spanned both segments. That's what happens when the rest of the market catches up to you with their mainstream lines, and when smartphones jump ahead; there's simply more on offer in Android, webOS and Apple's mobile OS X platforms. Not least is third-party app support, and while Sprint have made all the right noises about BREW devices and new applications, there's little to show for it for consumers. The original Instinct was a surprise success for Sprint; while HD support may tick one of today's fashion tickboxes, the Instinct HD doesn't quite deliver what we want for its $249.99 price-tag.