Sprint Epic 4G Review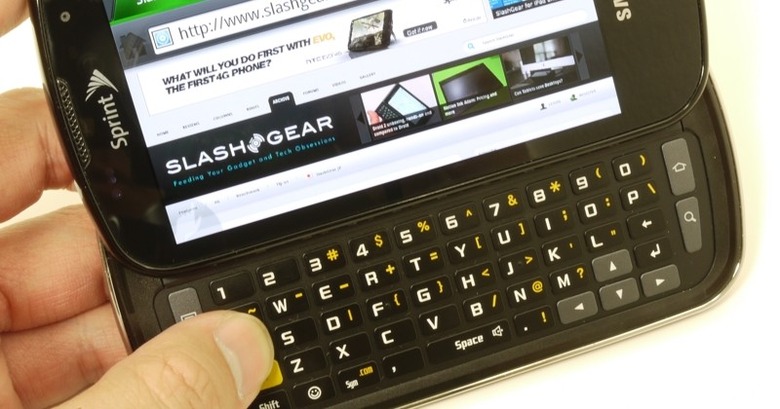 Sprint 4G smartphones may be thin on the ground, but that doesn't mean the Samsung Epic 4G gets a free pass into our favors; there's plenty of strong competition among the smartphone ecosystem, even if you're limiting your choices to devices running the Android OS. Some – like the Nexus One – get Android updates sooner, while others – like the DROID X – have bigger screens and higher-resolution cameras. Hardware keyboards may be more rare, but the Epic 4G isn't alone in that segment either. Still, with a Super AMOLED display, high-speed connectivity and all Samsung's multimedia bells & whistles, the Epic 4G certainly stands a good chance of being Sprint's best smartphone. Check out the full SlashGear review after the cut.
At 4.90 x 2.54 x 0.56 inches the Epic 4G can't really be called discrete. It's a hefty chunk of matte and gloss finish black and silver plastic, wider than the DROID X, and with Samsung eschewing metal but still opting for premium materials that feel suitably high-end. We'd generally prefer metal construction, but the weight impact on the Epic 4G would likely have been significant (already it's 5.46oz). Up top there's a 3.5mm headphone socket together with a microUSB port covered with a sliding door; on the left edge is the volume rocker and on the right the power/lock key and a camera shortcut. Under the Teflon-coated bowed back panel is a microSD slot, with Samsung including a 16GB card in the box and the Epic 4G supporting up to 32GB cards. There's also the sizeable 1,500mAh battery.

Most eye-catching is the Epic 4G's display, with Samsung still keeping their latest breed of Super AMOLED displays to themselves. Measuring 4-inches and running at WVGA resolution, it's a bigger panel but with fewer pixels than you'd find fronting the iPhone 4. Still, while it's no Retina Display, it's altogether an enjoyable experience in daily use. Colors and contrast are both amazing, viewing angles are broad and, unlike regular AMOLED panels, the Epic 4G can be used outdoors without demanding you shade it entirely.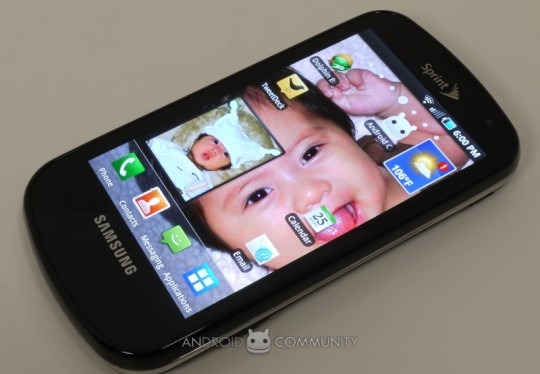 Under the touchscreen is a row of touch-sensitive keys – menu, home, back and search – as on the Vibrant and Captivate, though no D-pad or optical joystick. We most miss that sort of control when trying to edit text, but of course with a flick the Epic 4G reveals its full QWERTY keyboard (complete with dedicated arrow keys). The scale of the smartphone means there's plenty of room for buttons, and Samsung hasn't held back: the five-row 'board (with dedicated number row) is flanked by menu and back buttons on the left, and home and search buttons on the right. The keys themselves offer a very good typing experience, being tactile and providing just the right resistance, and they're well spaced too. Our sole frustration is the spacebar, a double-key width that feels like it should be wider; we wish Samsung had left off the dedicated emoticon button and made the spacebar 50-percent broader again.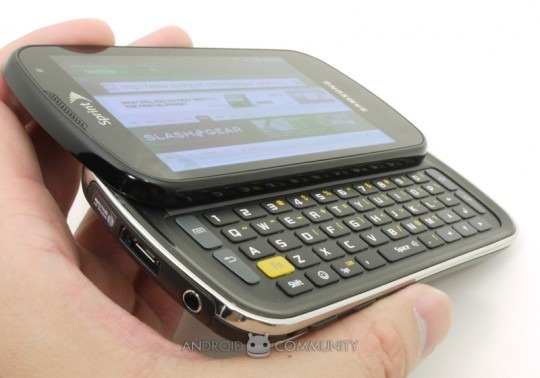 As the name suggests, the Epic 4G not only makes use of Sprint's EVDO Rev.A 3G network but the 4G (WiMAX) coverage found in a growing number of US cities. The second Android device to make use of this – after the perpetually out-of-stock HTC EVO 4G – and the first to pair 4G with a hardware keyboard, the Samsung is left with something of an advantage in a market where data connections are key. As well as cellular data there's also WiFi b/g/n and Bluetooth 3.0, along with GPS, a digital compass and a 6-axis accelerometer.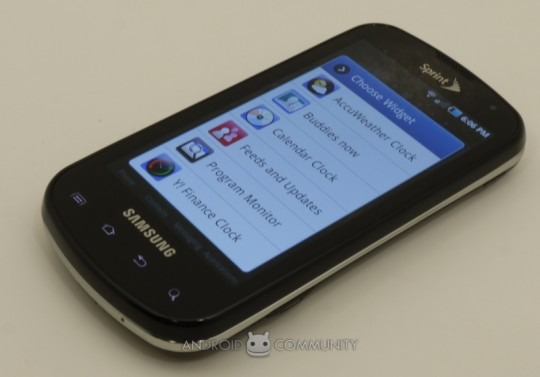 On the software side, the Epic 4G is generally reminiscent of the Galaxy S. Samsung has used Android 2.1, as before, complete with their TouchWiz 3.0 interface that changes the UI, adds in social networking, news and media widgets, and generally tweaks the regular Android experience. As with the Galaxy S family of devices, TouchWiz remains an acquired taste, and it's one we're generally not keen on. The iconography feels like it's aping iOS, while many of the changes seem done not to improve the user experience but simply to make it distinctly Samsung. When you consider that updates to the core OS will be delayed thanks to the work involved in bringing TouchWiz up to date accordingly, that seems like a fair amount of compromise for negligible benefit. Samsung has committed to bringing Android 2.2 Froyo to the Epic 4G, though there's no definitive timescale for its release; by the time it arrives, 3.0 Gingerbread might be on the cards too. The company also preloads the Swype virtual keyboard app, for times when you don't want to pop out the hardware 'board.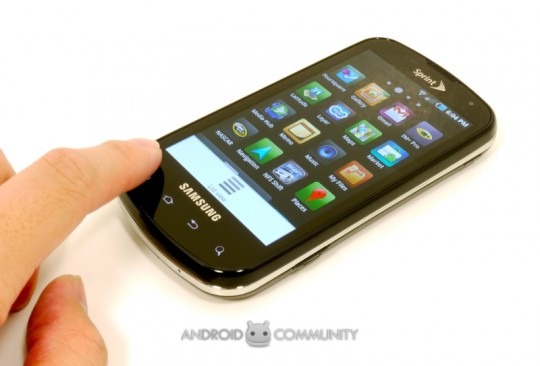 Happily, while use of the Galaxy S series was punctuated with freezes and pauses, anecdotally blamed upon the handsets' use of an internal microSD card for their onboard storage, the Epic 4G seems generally free of such lag. Indeed, the 1GHz Hummingbird processor – a relative of Qualcomm's broadly-adopted Snapdragon – paired with 512MB of RAM and 1GB of ROM shifts between applications slickly, with minimal delay in loading media content or other smartphone trouble-spots such as booting up the camera.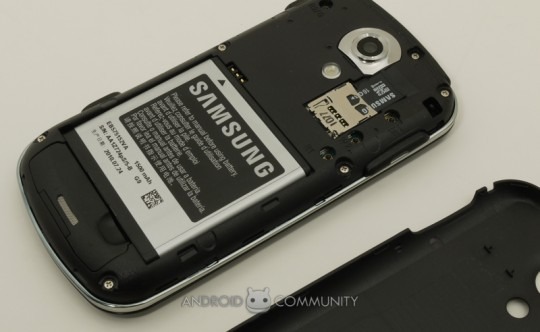 As for that camera, image quality is very strong. At 5-megapixels it's on-a-par spec-sheet wise with its main rivals, with an LED flash, autofocus and the ability to record 720p HD video clips. Still pictures are nicely detailed with decent color balance and little in the way of fuzz when at reasonable levels of zoom. Meanwhile, videos are relatively blur-free and don't suffer from over-compression. The LED flash, while limited in its range, is handy all the same when faced with the right circumstances. Up front is a VGA-quality webcam intended for video calls; they're not supported natively in Android yet, but apps like the preloaded Qik can make use of them (and over 3G and WiFi connections, rather than the iPhone 4's WiFi-only FaceTime).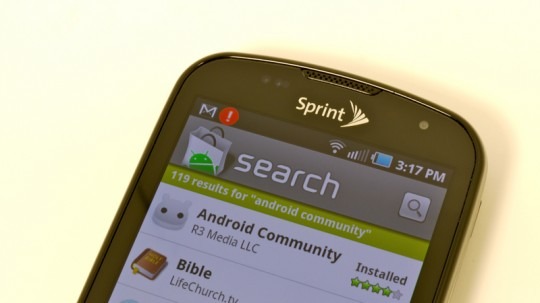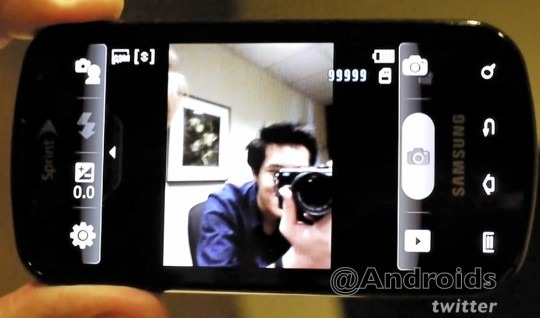 Samsung is carving something of a niche for itself for media playback, with the Galaxy S range setting out a broad stall of supported audio and video codecs. The Epic 4G follows in those footsteps, with MP4, DivX, WMV, H.263 and H.264 video support and MP4, WAV, eAAC+, AC3 and FLAC audio support. Samsung's AllShare app is also preloaded, turning the Epic 4G into a DLNA media streamer. That way, DLNA-compliant TVs, WiFi radios or other devices can wirelessly play back content stored on the smartphone, useful for showing off photos and video clips you've recorded. If your TV doesn't have DLNA support integrated, Samsung will also sell you the "WMG160 WiFi HD streaming device", a standalone wireless streamer for A/V and document files.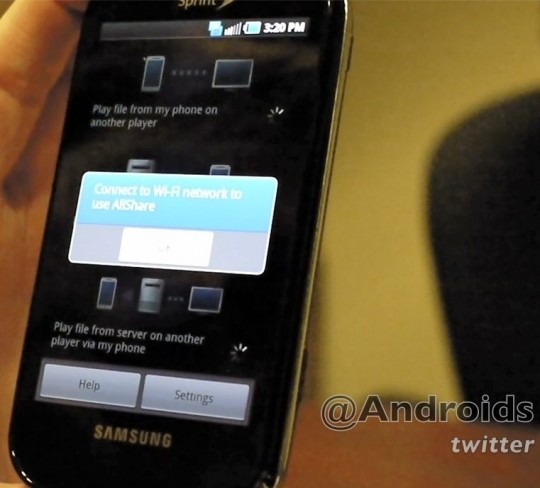 The company also remains one of the few doing ActiveSync correctly, with the Epic 4G's Exchange support giving us none of the headaches as we've had on, say, Motorola's recent Android phones. There's also a simple task manager, making killing runaway apps simple. Best of all, the GPS issues which many have reported affecting Galaxy S family devices aren't apparent on the Epic 4G, with our review unit proving capable of quickly establishing a fix and tracking it accordingly.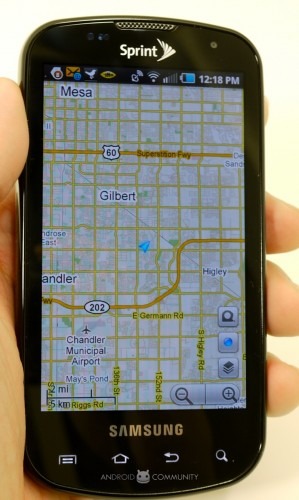 Samsung's last push to distinguish functionality is their Media Hub, a multimedia store set for imminent launch. Offering movies, TV episodes, music and more, it's Samsung's attempt to take on iTunes. Sprint gave us a demonstration of the incoming system, which you can watch below:
The Epic 4G may be asked to perform more than its fair share of duties, but voice calls can't be ignored. Happily performance here is also strong, with a loud speakerphone and crisp audio for both parties. Thanks to the 4G you'll be spending more time looking at the signal meter to see if you're accessing the WiMAX network; we'd like the see the carrier add a 4G-specific layer to Google Maps, so you can more easily track where you'll get access to the fastest data.

The flip-side to 4G is its demands on the battery, and Samsung has sensible equipped the Epic 4G with a sizeable 1,500mAh pack. That, they estimate, is good for up to 6hrs talktime or over 216hrs standby; of course, typical use is more likely a combination of data services, messaging and voice calls, and harder to pin down. As with the EVO 4G, sharing a WiMAX connection using the Epic 4G's mobile hotspot app can drain the battery in four hours or so, but more casual browsing and push email allows the Samsung to last a day of use. For better or for worse, Android has plenty of areas where you can tweak settings to prolong runtime, if you choose to sacrifice unwanted functionality; not everyone will want the Epic 4G's automatically-updating news widgets, or the social networking integration, or photo-geotagging, and spending some time in the settings pages is, as on any device, a good way to maximize use.
Sprint Epic hands-on demo
[vms 97eeae6788aa3348e553]
Tastes differ, but we feel pretty confident in calling the Samsung Epic 4G the best smartphone on the Sprint network today. That success is primarily the sum of the brilliant Super AMOLED display, excellent keyboard and speedy WiMAX connectivity. The compromise is TouchWiz, and we wish Samsung would concede that not everyone appreciates its skin and offer a way to return to the native Android UI. If you can live with it, you'll have a highly capable, flexible and media-rich handset, albeit one slightly on the back foot when it comes to the latest build of Google's OS. Still, that's a common complaint among the variously modified devices on the market right now. Out of the box, Sprint's Epic 4G does everything we could ask of it, with the growing space to keep up with whatever Android – and the legion of third-party developers – might have round the corner. Place your pre-order now, people; the Epic 4G is likely to be just as popular as it deserves to be.
Make sure to read our Galaxy S review and follow our twitter feed at @Androids or visit Android Community for everything Android!
Unboxing Sprint Epic 4G
[vms a72e8ac0117e74ad46f3]
Sprint Epic 4G Accessories
[vms 0a1841b3b3728321e708]