Sprint Announcement Coming February 7th, Promises Another Industry First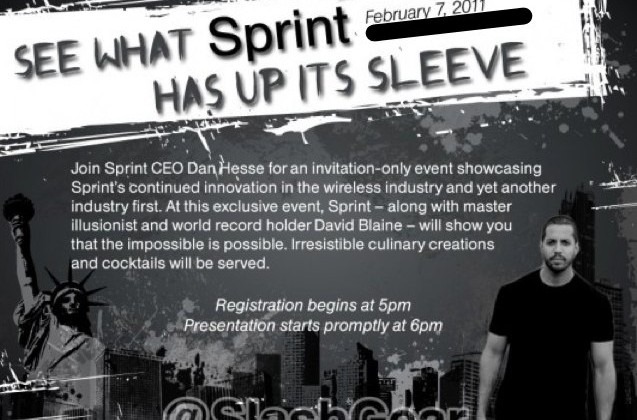 The invites are pouring in. We've already heard from Verizon, and we've still got HP's webOS announcement around the corner, but it looks like Sprint wants to get into the madness as well. We've received an invitation to an invite-only event on February 7th, where Sprint's CEO Dan Hesse will be on hand to unveil something.
This particular invite has "master illusionist" David Blaine on the front of it, where the man will be on hand for something. We're not sure how it relates to whatever Sprint is announcing, but considering the "See what Sprint has up its sleeve" line at the top, we're assuming that the carrier believes they're about to pull a magic trick in the wireless industry.
Speculation about a Sprint iPhone is already picking up speed, along with the fact that there could be 4G tucked away inside. We know that Apple chose not to go with 4G for their Verizon device because of modifications to the device that they were not prepared to make, so it would indeed be a magic trick for Sprint to land the first 4G-enabled iPhone. Though, it's probably more likely that the carrier has another Android-related announcement to make, which makes the "another industry first" part quite interesting.
Anyone want to take a guess as to what Sprint has ready to announce?
[via Android Community]