Sprint 3G Talks With Garmin, Kodak & SanDisk?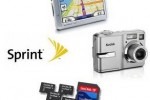 Sprint are believed to be in discussions with Garmin, SanDisk and Kodak regarding supplying wireless internet access for products from the three companies.  The potential deals are said to be similar to that between Sprint and Amazon for the Kindle wireless network, and while no specific application details have been revealed, it's fair to assume that Garmin would plan a 3G-enabled PND, Kodak a 3G-enabled camera and SanDisk a 3G-enabled memory card.
Wholesale revenue negotiated in this way – where a company, like Amazon, foots the data bill for its service users – is less profitable than standard subscribers, but they save money on customer service and billing processes.  Six-percent of Sprint's current revenue is from wholesale business. 
According to Jim Patterson, Sprint's president of wholesale services, only one 3G-enabled device proposition in five ever reaches production stage.  Nonetheless, given all three of Garmin, SanDisk and Kodak are looking to differentiate themselves in increasingly competitive markets, 3G internet access could give each of them an edge.