Spring Design Alex gets hands-on; shows off new Marvell ARMADA 166E ebook SoC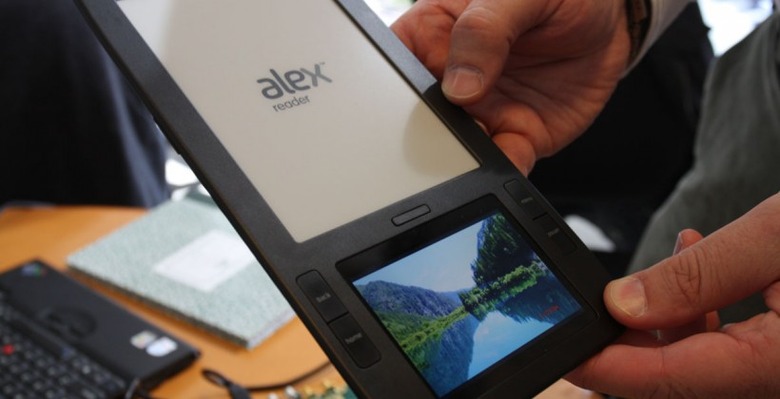 Whether or not Barnes and Noble liked it
, Spring Design's
Alex prototype dual-display ebook reader
is certainly nifty enough to capture our interest.  MaximumPC had a chance to
with the Alex, which has a 6-inch e-ink screen up top and a 3.5-inch color capacitive touchscreen underneath for control and navigation, as part of a Marvell demonstration for the company's new ARMADA 166E SoC.
The ARMADA 166E bundles together an applications processor and display controller, and supports up to 3fps e-ink video; not enough to replace your HDTV, perhaps, but certainly better than what we've seen to-date.  There's also wireless support, including WiFi and 3G, and a new zero-power consumption hibernate mode.
As for the Alex, MaximumPC found the dual-display design particularly useful for speedily locating the specific content you want to read: the LCD updates far faster than the e-ink panel.  The pay-off is the fact that it's thicker than, say, Amazon's
, to fit in a larger battery and the mechanics of the secondary screen.  The Spring Design Alex should be on the market by the end of the year.
Press Release:
Marvell and E Ink Join Forces to Deliver a Radical New Generation of Faster, Lower Power Ultra Thin E-readers for Mass Markets

Consumer Breakthrough: Marvell Gets to Market First with a Total Solution for Innovative New E-readers at a Variety of Anticipated Price Points

Santa Clara, California (November 3, 2009) — Marvell (NASDAQ: MRVL), a world leader in storage, communications, and consumer silicon solutions, today announced its collaboration with E Ink, the supplier of electronic paper display (EPD) technologies for most of the world's e-readers. The two companies have begun to ship a highly integrated e-reader processor available in complete turnkey platforms aimed at the fast-growing e-reader market. These new platforms are expected to accelerate the rapid release of new forms of e-readers at a variety of price points.

"With this announcement, Marvell raises the technology bar and takes the lead in the e-reader market," said Ms. Weili Dai, Marvell's Co-founder and Vice President and General Manager of the Company's Consumer and Computing Business Unit at Marvell Semiconductor, Inc. "Because this is a total platform solution – including Marvell key technologies such as Wi-Fi, Bluetooth, 3G modem, and power management – the ARMADA e-reader has the potential to deliver the first mass market product accessible and affordable to billions of consumers around the world. Marvell's passion is to give consumers more choice, improved features, and greater access to more information with e-readers that are aimed at education, health, and business applications."

As one of the fastest growing consumer markets, e-readers continue to grow in popularity due to falling retail prices, improved features, and fast growing library of digital content. According to a recent iSuppli Research report, e-readers are projected to top 18 millions units shipped in 2012, from 1.1 million units last year.[1]

Marvell and E Ink have been working together and co-developing products for the ePaper market. The recently signed agreement between E Ink and Marvell includes joint development and cross licensing of next generation ePaper timing controllers and system platforms, which the companies anticipate will result in higher integration and lower cost solutions for e-reader manufacturers.

"Our collaboration with Marvell will deliver an integrated System-on-a-Chip (SoC) solution to the market," said Sriram Peruvemba, Vice President of Marketing at E Ink. "This SoC solution is aimed at offering highly desired features at competitive price points."

Central to this new e-reader platform is the world's first commercially available SoC that integrates a high performance processor and state of the art EPD controller on a single chip — the Marvell ARMADA® 166E application processor. The ARMADA™ 166E is designed to offer users ultra fast renderings of high resolution PDF documents and support for the latest ePaper technologies in new smaller, slimmer form factors with lower system cost than the competition. The ARMADA 166E also brings to e-readers new features that save power and extend battery life including a unique hibernation mode, or zero power mode.

The two companies have also joined forces with FirstPaper, LLC, to integrate unique technology into the ARMADA 166E. This joint innovation enables a range of display sizes and resolutions, including support for larger screens that will deliver layouts, graphics, and content choices that people normally associate with periodicals, larger-format books, and documents.

"Periodicals are the next big frontier in e-reading," said Gil Fuchsberg, President of FirstPaper, which will bring a new e-reading ecosystem to market in 2010. "To enable great newspaper and magazine reading experiences, e-reading devices need the right tools to make richer layouts and complex content come to life. We're excited to be working with Marvell to bring such tools to the market." Device manufacturers will be able to take full advantage of FirstPaper's integrated content and commerce platform with the ARMADA 166E.

Customer Support

Customers have sampled and integrated the Marvell ARMADA and E Ink based e-reader platforms into their end solutions — consumer ready e-readers are expected to be available to end-users in 2010.

"The enTourage eDGe is the industry's first dualbook, combining an E-Ink reader with a netbook, notepad and audio/video player and recorder into one central device," said Asghar Mostafa, President and CEO of enTourage Systems. "The ARMADA 166E gives the enTourage eDGe the power it needs to meet people's multiple, yet simultaneous digital needs, at an attractive price point within reach of all consumers."

"Marvell's support was a key enabler in Plastic Logic's development of a high performance e-reader to meet the needs of business professionals," said Frank Canova, VP Product Engineering for Plastic Logic. "Plastic Logic plans to unveil the category's first proReader on January 7 at the 2010 Consumer Electronics Show."

"During our development of the Alex Reader — a dual screen e-reader that incorporates both e-ink for high contrast e-reading, and color LCD screen for multimedia playback and enhanced Web browsing, Marvell was the clear choice," noted Albert Teng, Founder and CTO at Spring Design. "We needed a processor that could run Android while delivering outstanding multimedia performance."

About ARMADA

The Marvell ARMADA family of application processors is the first to offer customized silicon solutions for market segments ranging from smartphones to consumer, embedded and smartbook devices combined with fully optimized support of industry standard operating systems and software frameworks such as Google Android, Microsoft Windows Embedded, Microsoft Windows Mobile, Adobe Flash, Ubuntu and Maemo while offering OEMs a high level of software re-use in order to enable them to focus on product differentiation at the application and user interface levels.

About E Ink

E Ink Corporation is the world's leading supplier of electronic paper display (EPD) technologies. E Ink's technology is ideal for many consumer and industrial applications spanning handheld devices, eBooks, eNewspapers, PC-accessories, public information displays and promotional signs. E Ink is a private corporation that includes among its investors and strategic partners Air Products and Chemicals, ChiLin Technology, Epson, Hearst Corp, Intel Capital, LG Display, Motorola, Philips, Prime View International, Toppan Printing Co and Wacom. E Ink's customers include Amazon, Casio, Citizen, Hanwang, Hitachi, iRex, Lexar, Plastic Logic, Samsung and Sony. Recently, E Ink has signed an agreement to merge with Prime View International (8069: TWO) with the intent to close the merger by December 2009. E Ink news can be found at: www.eink.com.

About Marvell

Marvell (NASDAQ: MRVL) is a world leader in the development of storage, communications, and consumer silicon solutions. The company's diverse product portfolio includes switching, transceiver, communications controller, wireless, and storage solutions that power the entire communications infrastructure including enterprise, metro, home, and storage networking. As used in this release, the terms "company" and "Marvell" refer to Marvell Technology Group Ltd. and its subsidiaries. For more information, visit http://www.marvell.com.