Spray Butter On Any Food In An Instant, With BiÄ"m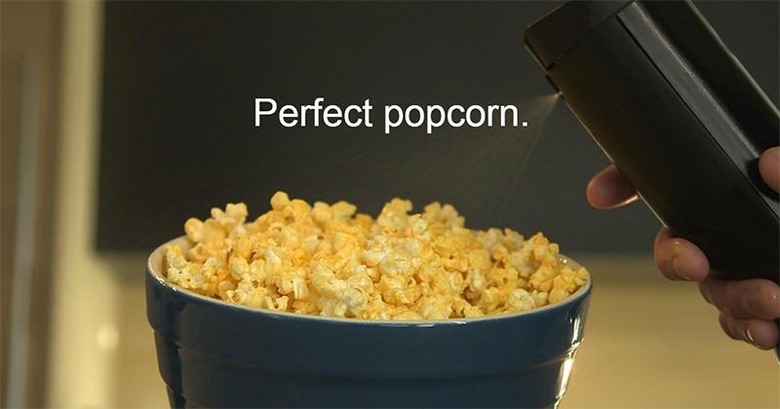 I'll be honest, I'm pretty lazy when it comes to my food. If there's a shortcut that I can take, without losing too much on the flavor side, I'll take it. The only thing I really struggle with in that department is butter. I hate scraping cold butter over toast, but I'm also not a fan of the artificial butter-substitutes that you can spray (yes, I can believe that's not butter). Well, all of my butter-related issues have just been solved by one new gadget.
The biēm (pronounced "beam") is the first device that will instantly liquify your butter, and shoot it directly onto your food. That's right, it's a butter sprayer, and it might be the best thing I've ever seen (or I'm just really hungry right now). The best part is how easy it is to use. All you have to do is drop in a stick of butter, and press a button, and according to the creator, your glorious butter will shoot out almost instantly.
Once you've dropped in the butter and sprayed some onto your food or pan, you'll be pleased to find that the entire stick hasn't been liquified. The biēm only melts the butter as its being used, preserving the rest of the stick for future use. You'll never have to worry about turning it on or off, either. The device has a built-in accelerometer, which it uses to determine whether or not you're picking it up and getting ready to use it. When it's been set back down, it powers off shortly after.
Cleaning is said to be as easy as spraying butter. Just fill up the butter compartment with water and a drop of dish soap. Then press and hold the on/off button for a couple of seconds, and the water will be heated up to 155 degrees for around 10 minutes. Then, just spray all of the water out, just like you'd spray the butter. Fill it up with water once more and spray it out, to ensure that it has been rinsed out. Let it dry, and you're all set.
The biēm is currently available on Kickstarter for $99. The project has already received more than three times the amount of funding needed, so you don't have to worry about that.
Source: Kickstarter