Spotify Year in Music 2015 launches with personal listening habits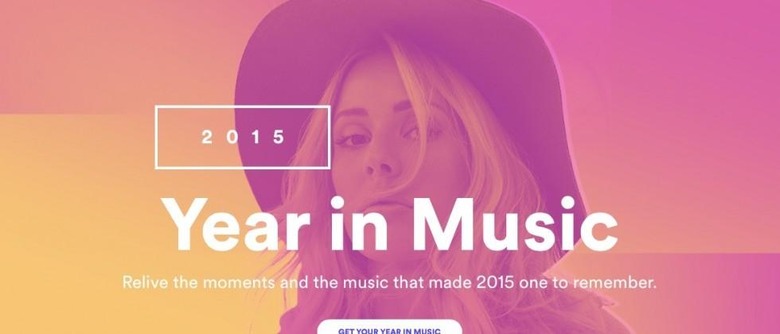 As the year 2015 winds down, music streaming giant Spotify has launched its Year in Music feature that lets users explore an interactive and personalized review of what they've listened to for the last 12 months. Once users log in, they see expected stats like the songs, artists, and albums most listened to, along with totals for number of minutes spent listening and number of songs listened to. Spotify makes the data fun to share too, with snapshot-style cards that can be posted to social media.
When users log in and visit Spotify's Year in Music page, they are presented with a scrollable page that starts off with the song they listened to most in January 2015. Not only does this serve to highlight what music they kicked off the year with, but it allows users to compare if their preferences have changed over the last 12 months.
Next on the list are the top five artists and top five albums listened to. At the very bottom of the page, Spotify shares the top artist, top album, and top song based on all subscribers of the service (they turned out to be Drake, The Weeknd, and Major Lazer's Lean On, respectively).
Lastly, Spotify presents users with a "Play It Forward" playlist, a selection of music based on their 2015 preferences, customized with songs the service believes they'll enjoy in the new year.
SOURCE Spotify