Spotify is sending out a survey to certain users that contains an interesting question: would those users be interested in a data-only mobile plan from Spotify that includes the streaming service as a bundled feature? The company doesn't currently offer any such plans, but the question hints at a business idea Spotify has behind closed doors.
The survey question was spotted by Android Police, which shared the image below. In it, Spotify asks whether the users would be interested in a mobile plan that only offers data — no minutes for calling and no texts for SMS. That plan, should it ever happen, would cost $30/month with unlimited data and a Spotify Premium bundle.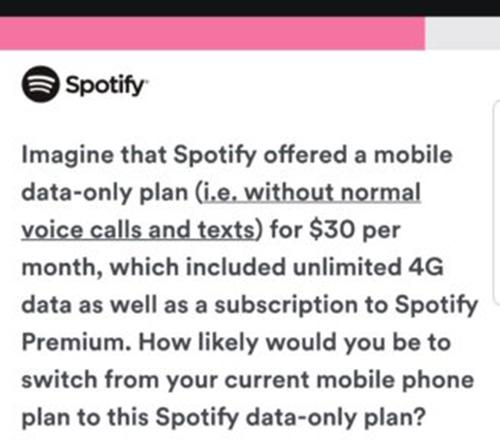 Spotify Premium by itself costs $9.99/month; someone who already subscribes to it would then only be paying about $20/month extra to get the unlimited 4G phone plan. That's a great opportunity…assuming you can live without traditional voice and texting features.
A large number of apps are available for free or at very little cost that use data for voice and messaging services. Some of these apps, such as Google Voice, offer a regular phone number, while others enable users of the same app (such as Messenger) to communicate. Consumers in the US have been requesting a data-only phone plan for years.
Whether the plan would be for 4G LTE speeds is unclear, and it's hard to guess what kind of coverage the subscribers would get. MVNO plans are common and Spotify's offering, should it ever happen, would likely be counted among them. Whether enough customers would be willing to go data-only for Spotify to consider it a worthwhile attempt is anyone's guess.
SOURCE: Android Police