Spotify Stations launches on Android, but good luck using it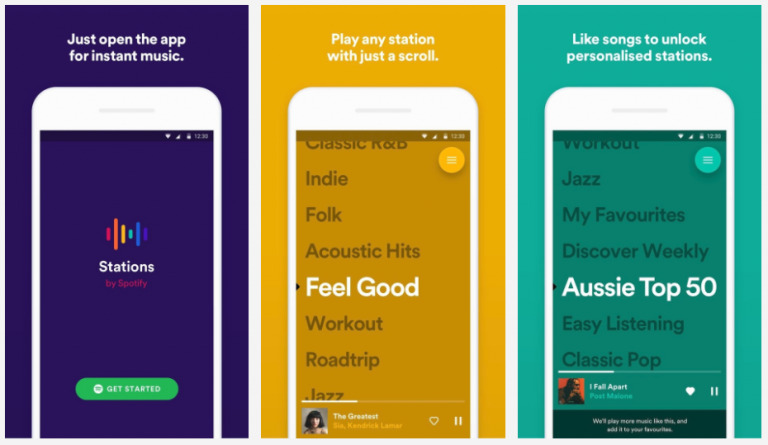 It would seem that Spotify has a new app in testing on Android. Called Stations, this app looks to challenge other services like Pandora by giving users access to playlists they can use to discover new music or find music that matches their current mood. It sounds pretty cool, but there's one problem: this seems to be a limited test that's only open to a select number of people.
Stations' listing on the Google Play Store tells us pretty much everything we need to know about the app. "When you have access to all the music in the world, finding the right thing to play can feel like a challenge," the app's description reads. "With Stations, you can listen immediately, and switching stations is simple and seamless–no searching or typing needed. As you listen, it learns what you like and creates personalized stations that you'll love."
The app was first unearthed by Sensor Tower yesterday. The listing on Google Play says the app is free to download, but like other radio apps, it's supported by ads in exchange for that open access. If you're looking for ad-free listening, then, you might want to stick with Spotify proper for the time being.
Of course, that's assuming you can even download Stations at this early stage, which it seems that most people can't. Even though news of Stations has been making the rounds today, the Play Store says that the app only has 50-100 downloads at the time of this writing. This test run doesn't seem to be compatible with a number of phones, and for what it's worth, I'm not able to download it on my own Galaxy S8.
When questioned about the app, Spotify simply told Variety that it's "testing new features all the time," declining to give any specific information about Stations itself. We'll see if the company decides to make anything official in the days and weeks to come, but for now, head down to the comments section and let us know if you're able to download Stations while it's in this testing phase.