Spotify launches on Windows Phone 8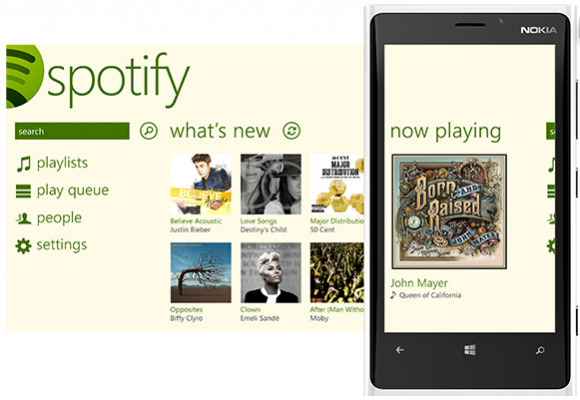 While us iOS and Android users have been enjoying Spotify for quite a while now, the app just now hit the Windows Phone 8 store. While it's launching in beta mode, the app is available for everyone, just don't expect a completely smooth and snappy music app right off the bat, since the dev team is still working on it.
This actually marks the first time that an official Spotify app has become available on the Windows Phone operating system. In the past, Windows Phone 7 had a third-party Spotify app (as well as on BlackBerry), which was actually funded by Microsoft to try and get it on their platform as soon as possible, but now the official Spotify team has released a dedicated app for Windows Phone 8.
Many of the features that you'll find on the app are the same features that iOS and Android users have been enjoying for a while now. You can do things like create playlists, browse playlists of friends, and even discover new music. The app works in the cloud, but it also has an offline mode that allows you download your library to your device for offline listening.
The app is available for free, with a 30-day free trial to Spotify Premium, which is required in order to take advantage of the mobile app. Premium service costs $9.99 a month, and it allows you sync your Spotify library between devices, including your computer. Computer-only use is free, but you'll also be treated with ads if you plan to go with that route.