Spotify Is Giving Away Chromecasts With A 3-Month Premium Subscription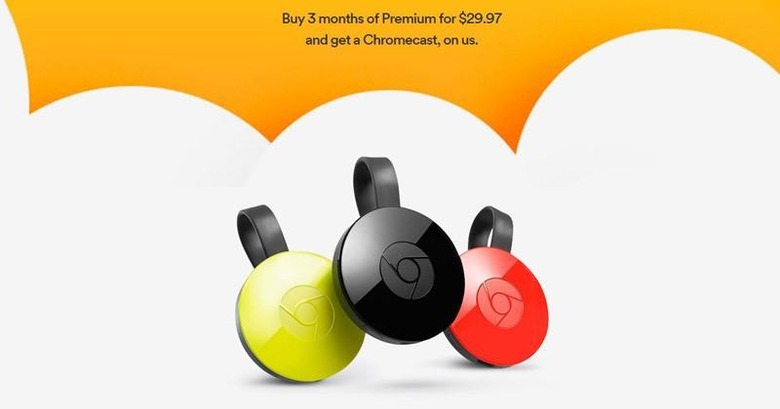 I'm something of a bargain hunter. I don't go coupon crazy or anything, but I'm always on the lookout for a good deal, especially when it comes to my tech toys. If you've been on the lookout for a good way to pick up a Chromecast, now might be a good time to do it.
This is one of those deals where you have to pay something to save some money. Today, Spotify announced that they're giving away free Chromecasts to anyone who signs up for three months of their Premium service. The service isn't offered at a discounted rate or anything, so you'll need to shell out $30 in order to get in on the deal. But in exchange, you'll not only get the three months of service you paid for, but a shiny new Chromecast that you can use to stream your audio on various devices.
The catch here is that it appears to only work for new Premium subscribers. You can't just cancel your existing Premium subscription, and sign back up, either. If you really want to get in on the deal, you could always cancel your Premium subscription, and re-subscribe under a new account.
If this is the sort of deal that you're interested in, you'll want to keep in mind that supplies are said to be limited. The promotion is good until February 28, but they've stated that they can end it early, if they run out of Chromecast vouchers before then.
Source: Spotify