Spotify for Android gets NFC music exchange: We go hands-on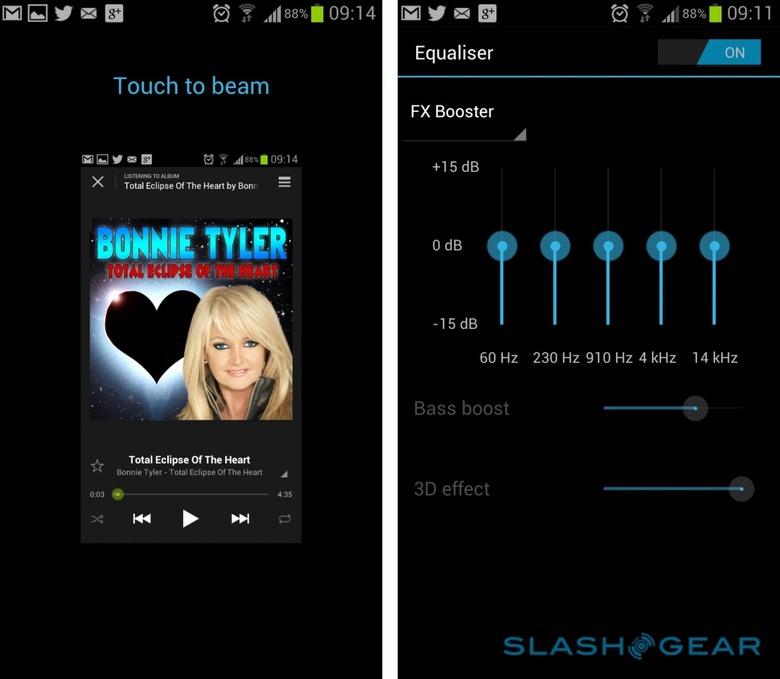 Spotify has updated its Android app to support NFC, using the short-range wireless technology to share music between handsets running Ice Cream Sandwich. The new app also introduces a fresh range of Audio Effects for Android 4.x phones, and the offline mode has been improved with more information to explain exactly why you're offline: whether it's network issues or simply because you've shut off data while roaming.
There are also the usual bugfixes and tweaks to stabilize the whole Spotify mobile experience. As before, you can access the company's 10m+ catalog of audio, as well as synchronize playlists with the desktop app and other devices.
We booted up the new app on the Galaxy S III, and had no problem playing with the audio EQ tools which are now found in a submenu from the app's settings page. The NFC implementation is a little counter-intuitive, however.
Initially, we tried to exchange a specific track (between the GSIII on Android 4.0 and a Galaxy Nexus on Jelly Bean), with the music playing on one phone. Holding them back-to-back did bring up the regular Android Beam option, but nothing came through to the other device; however, when we did the same with an album, that listing subsequently popped up on the second phone.
It seems that, right now, only full album records can be swapped between phones via NFC, not specific tracks, though that's still better than nothing. NFC exchange didn't interrupt playback on either device.
Spotify for Android is a free download from the Play store. However, you'll need a premium account with the streaming music service in order to actually use the app.