Spotify Finally Arrives On Wear OS With Standalone App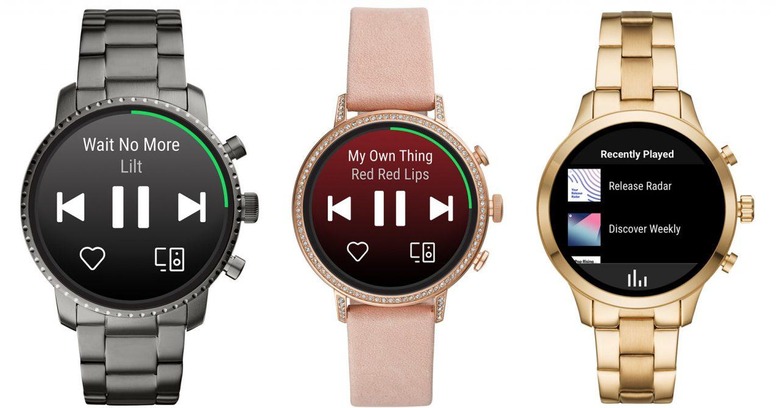 If you're one of the Spotify faithful and you own a Wear OS smartwatch, then today you're getting another option when it comes to controlling your music. Spotify has announced a standalone app for Wear OS, which means that you no longer need to rely on your phone when it comes to listening to your Spotify library. For those that use a smartwatch regularly, this will likely be a welcome launch.
Spotify sees this being a big boon for the exercise-minded among us in particular, as this standalone app means that you no longer need to pull out your phone in the middle of a workout. Instead, you can access playback controls on your watch face and browse your recently played music and podcasts.
There is, of course, still some value in the Wear OS launch of Spotify if you're one of those people for whom "exercise" is a dirty word. You can use Spotify Connect to stream music from your smartwatch to speakers or other connected devices, setting your phone aside in the process. While connecting to other devices and streaming from your phone is something that's pretty easy to do here in 2018, there is something to be said for having playback controls right there on your wrist.
The Spotify Wear OS app will also allow you to save songs to your favorites, so if you encounter a song you like while listening to one of Spotify's curated playlists, all you need to do is tap the heart icon to save it. In celebration of this launch, Spotify has struck a deal with two notable smartwatch manufacturers that will see its Wear OS app come pre-installed on Fossil Gen 4 and Michael Kors Access Runway smartwatches (pictured above).
So, while the Wear OS iteration of Spotify sounds like it's a little more feature-light than the Android app, it should still get the job done when you don't want to be bothered by having to use your phone for playback. Spotify says that its Wear OS app will be rolling out to the Google Play Store globally over the next few weeks, though it doesn't seem to be live at the time of this writing.