Spotify dives into hardware with a device called 'Car Thing'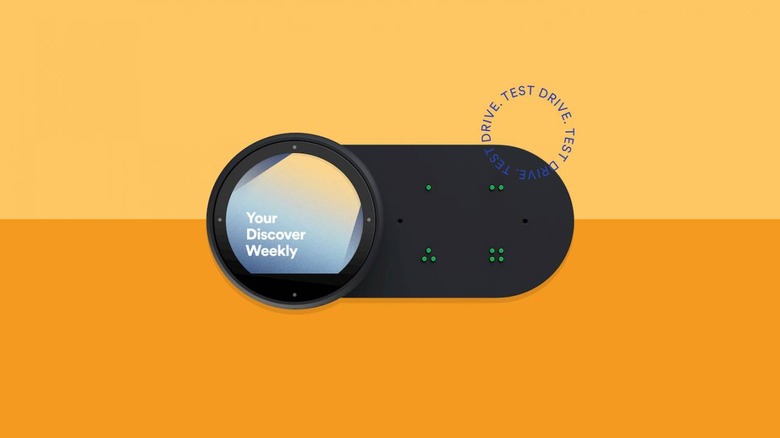 Ever since its inception all those years ago, Spotify has focused solely on software. Soon, however, its attention will shift to hardware for the first time. Today Spotify revealed a new device it's simply calling "Car Thing," and it hopes to use it to learn about subscribers' listening habits while they're on the road.
Car Thing is a voice-activated device that plugs into a vehicle's 12-volt outlet and connects to the user's phone and car stereo using Bluetooth. Once it's plugged in and running, it can be used to control audio playback by saying "Hey Spotify." In other words, it's a pretty straightforward voice-activated device, though it does have a display to show what's currently playing and what appears to be four buttons on its face.
Before you get too excited, you should know that this doesn't mean Spotify will soon be launching some large-scale hardware initiative. In a blog post to its website, Spotify maintains that its primary focus will continue to be on improving its streaming service, and that isn't about to change to building hardware. Car Thing was merely created to gain insight into how Spotify users listen in their cars, and at the moment, there are no plans to make this device commercially available.
Instead, Spotify will keep the roll out of Car Thing small. The company says that it will be testing Car Thing in the US only and with a "small group of invited Spotify Premium users." It also says that it may do other voice tests in the future, giving devices named "Voice Thing" and "Home Thing" as an example.
Speaking to The Verge, an unnamed source familiar with Spotify's plans claims that the company has already trademarked those two terms (along with "Car Thing"), which suggests that Spotify may be gearing up to launch its own smart home speaker. It would certainly make sense for Spotify to go that route, given its dominance in music streaming, but for now, the company insists that it has no interest in developing hardware outside of learning more about how its users listen to music throughout the day. We'll see if any of that changes, so stay tuned for more.