Spotify deploys its new songwriter pages with 'Written by' playlists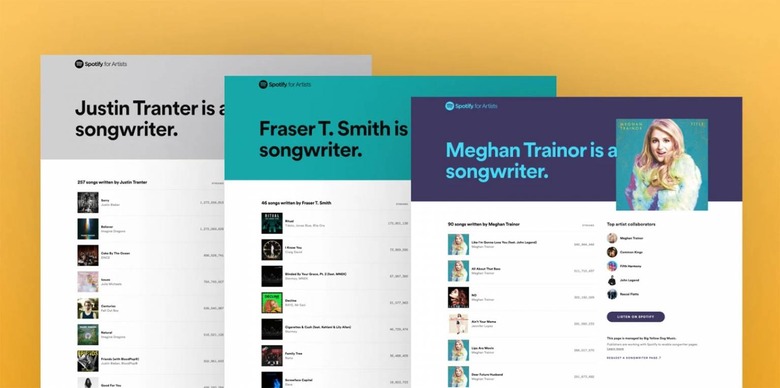 In 2018, Spotify began including songwriter credits with content, making the information available to the public. The company is taking this a step farther with the launch of proper songwriter pages, which list all of the songs written by the writer. This makes it easier for creators to showcase and share their work and for fans to find all of the songs from their favorite writers.
Users can find song credits on a track by opening the full playback menu, then scrolling down to the 'Song credits' menu option. These clickable credits are now accessible on iOS and Android, as well as the company's desktop apps. Users who are included in the beta will now view proper songwriter pages.
The writer's name is listed on the page above a list of songs written by the artist. Users can see the singer who performed the song, as well as how many times it has been played on the service and the total number of songs for which the writer has been credited. Tapping a song will, quite obviously, pull it up so that the user can stream it.
The 'Written By [Artist]' lists are proper playlists, which means users can search for them and follow them in order to enjoy the writer's work. These playlists are currently being featured on the Spotify home tab for all Spotify listeners, according to the company.
The company has kicked off this beta with songwriter pages for a number of artists, including Missy Elliot, Ben Billions, Meghan Trainor, Justin Tranter, Fraser T Smith, and Teddy Geiger. The company says that the pages are 'enabled' by Spotify and publishers in partnership with the creator.