Spotify adds mobile radio to Android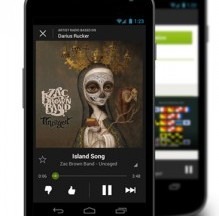 Spotify announced last month that it would be adding a radio feature to iOS devices that would let users set up custom stations based on genres, artists, and playlists, and now the company has announced that it's bringing the same feature over to Android too. Free Android users and those with a premium subscription to Spotify, which adds mobile access on top of unlimited music streaming, will be able to enjoy the same functionality as iOS users starting from today.
Just like the iOS version, users will be able to create personalized stations based on artist, album or playlists, and can enjoy unlimited listening as part of their premium subscription. Any songs that users stumble across while they're listening can also be saved for later use, and songs can also receive the thumbs up and thumbs down treatment.
Any changes made on mobile devices sync across the platform as well, so you can pick up where you left off on the desktop later. Best of all, you don't need a paid subscription to use the radio side of Spotify's service, marking the first time that free users can get access to Spotify's music catalogue on mobile devices. It might not be as flexible as total access, but it's a step in the right direction.
While Spotify operates a free music streaming service which is supported by ads, it has two subscriptions tiers for unaltered listening. Unlimited costs $5, but only the Premium $10 option allows for Spotify usage on mobile devices. If you want an alternative to Pandora and similar services, head on over to the Play Store and grab the latest Spotify update.