SportsPicks app launches on Xbox 360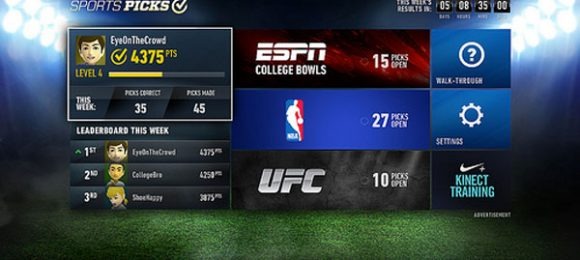 If you're a sports fan who owns an Xbox 360, a new app is available for you to download that will let you pick winners in various sports. The app is called SportsPicks and it will let you pick winners for the big games of the day or week and compete with fellow Xbox Live users to see who can make the best picks. The app offers a list of the latest college football, NBA, and UFC events.
You scroll through the list and pick the teams or fighters you believe will win. After the events are held, the results are matched against the final winners of each event and your results are matched against the leader board. The leader board allows you and other users to see which of your friends have the best picking skills.
The app also allows users to tweet their choices to challenge other people to use the app and make their own picks. I think this SportsPick app will turn out to be popular for sports fans that enjoy fantasy sports. It's too bad professional football from the NFL isn't included in the app.
Other than this new app, Xbox also rolled out a new SmartGlass experience for the ESPN and MBA Game Time apps. The new experience lets users use their Android, iPhone, or Windows smartphone or tablet as a remote for the Xbox and browse through the events and highlights that can be sent to the Xbox with SmartGlass.
[via GeekWire]