Splatoon hack lets you play with a real water gun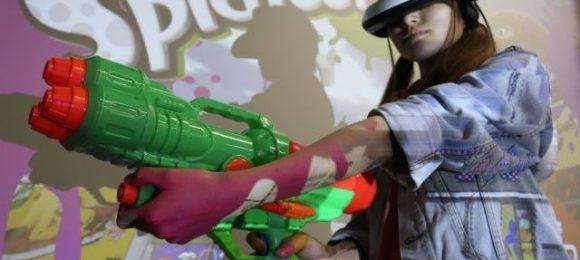 The PlayStation and Xbox platforms are clearly moving towards a future where virtual reality is an option for playing console games. But what about the Wii U? What could the aging system offer players in terms of realism and freedom of movement? Well, if Nintendo adopted this mod from the researchers at Japan's Kougaku Navi, you could play the shooter Splatoon on a head-mounted display while using a real water gun.
At first glance, it may look like the game is played in VR, but users are wearing a Sony-made head-mounted display, so they still a large, flat rectangular image, albeit just in front of their face. But this still offers the same benefit of a VR headset in the it allows players to move their body more freely.
Moving their body, or at least their torso, is important, as the set-up also places the standard Wii U GamePad on players' backs, with the gyroscopic movement used to control the direction they face in-game. It also allows them to feel the game's vibration feedback with their body.
The next part of the researchers' hack relies on a water gun outfitted parts that allow players to shoot in-game, as well as move forwards and backwards. It's wireless connected to the GamePad, so users can keep both hands on the gun.
It may not be the same as playing with an Oculus Rift or PlayStation VR on, but it certainly adds another layer to Splatoon.
VIA Engadget
SOURCE Kougaku Navi