Splatoon 2's colorful Nintendo Switch Joy-Cons are going it alone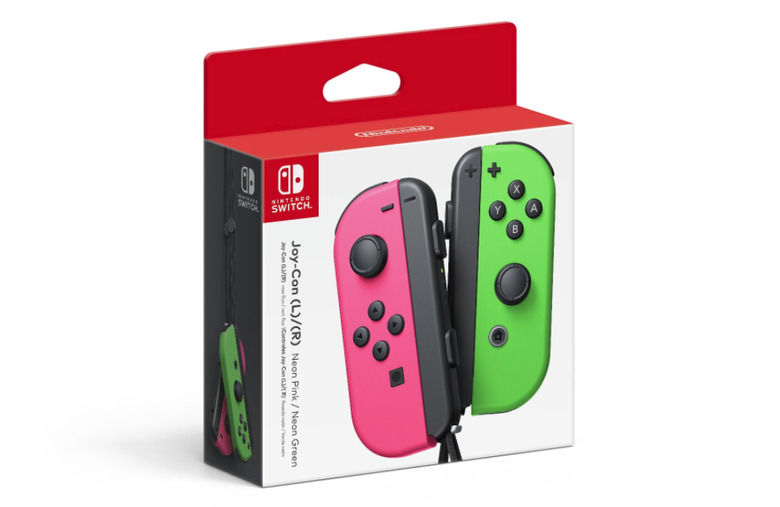 Back in August, Nintendo unveiled a Splatoon 2-themed Switch bundle, which holds the distinction of being the first special edition bundle released in the United States. Though there wasn't anything special about the Switch console itself, the Joy-Cons that were included in the bundle were colored neon pink and neon green, drawing inspiration from the vibrant colors found in the game itself.
For those who like the idea of collecting Joy-Cons of varying colors, buying this bundle from Walmart has been the only way to get these neon pick and green models. That's all changing soon, as Nintendo revealed today that it will soon offer them as a standalone product.
The company announced this on Twitter today, saying only that we'll see these Joy-Cons land on store shelves later on this month. Nintendo doesn't talk pricing either, but it seems safe to assume that this pair will cost the same $80 the company charges for other sets of Joy-Cons. There's no word on if these Joy-Cons will be offered separately, which is something Nintendo does with the neon red and blue Joy-Cons.
READ MORE: 5 reasons why Nintendo Switch is so popularThis is the second set of special edition Joy-Cons Nintendo has released outside of the red/blue and gray Joy-Cons that have been available since launch. Neon green and pink will be joining neon yellow as the Joy-Con colors that are available without a console. Nintendo has also released a third set of specially-colored Joy-Cons, but those are only available in a Switch console bundle with Super Mario Odyssey.
Nintendo revealed yesterday that the Switch has officially become the fastest-selling console in US history. That means the Switch is outpacing even the Wii, which is quite the accomplishment when you consider just how popular the Wii was. Will you be picking up these neon green and pink Joy-Cons when they're available later this month? Head down to the comments section and let us know!