Spend your Valentine's evening with NBA's All star live in 3D HD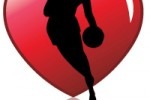 The 64 thousand dollar question on the upcoming NBA All star weekend is not the league would or not punish Nene- if he were to choose marriage instead of attending the All star game. No, is how the Superman, Dwight Howard, going to pull off the slam dunk contest this time. No one has a clue, but the sport channel co-hosts seemed to think Nene would get married at the dunk contest and have Dwight Howard dunked over the newly-wedded couple, and kisses the bride, jokingly. But seriously, that's not a bad idea, and in fact, would be the most romantic slam dunk contest ever (not the kissing part). If that were to happen, you would get your chance to witness it live in 3D HD.
(video after the cut)
Following its first successful publicly debuted 3D HD live BCS Collage Football Championship, Cinedigm will team up with Turner Sport and NBA to broadcast the All-Star Saturday Night in 3D HD Live. The live event will tip off on the Valentine's night (8PM, ET), featuring Cinedigm's CineLive technology broadcast to 80 digitally-equipped theaters, with more than 160 3D screens across the United States. Cinema tickets are available now for a location near you, and to buy tickets, you can visit www.cinedigm.com or www.nba.com/allstar2009
We weren't too impressed with the Super Bowl 3D ads, and many thought so; but the theatrical version of the 3D game is supposedly unlike what you've seen from the ads, the local theaters equipped with 3D HD projectors are quantum lead of what we've seen with paper glasses, less eye strain and can be worn over prescription lenses.
The NBA All-Star Saturday Night event will include
Haeir Shooting Stars competition
Playstation Skills Challenge
Foot Locker Three-Point Shootout
the Sprite Slam Dunk