Speed text challenge has $10k top-prize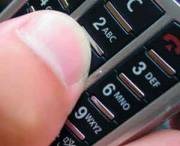 Have you got dynamic digits?  Are your fingers faster than the proverbial speeding bullet?  Then get your sweet ass down to Los Angeles, baby, because they're about to pit the quickest texters against each other in a fight for a $10,000 prize and place in the speed-messaging final in NYC on April 21st. 
Before you get too cocky, you'll have to turn that T9 off and refrain from using any ridiculous abbreviations or shorthand.  So far 150 have signed up and organisers LG are expecting more to turn up on the day.
To all those competing: gd lck!
R u rdy 4 wrlds fastest txt msg? [Reuters]