Speed for iPad drops with Retina quality upgrade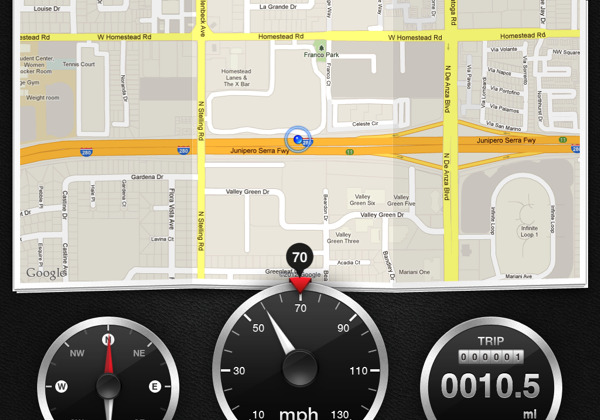 There's a brand new upgrade for the best-selling speedometer iPhone application, redesigned fully for the new iPad with a new interface as well as high-definition Retina-quality graphics. This app is made for you to be able to get an alternate look at your iPad-found numbers from its speedometer, odometer, and compass. The developers of the app, High Caffeine Content, have created a whole new user interface here that takes full advantage of not only the sharpness of the new iPad, but the entire space they're afforded here as well.
When you've got the app open, you've got options galore, with miles, kilometers, and knots available for road, air, and sea. Bring this app (on your iPad) along with you for wheels, wings, and water as you work with location data from your iPad's GPS to bring "a near-perfect representation of how fast you're actually traveling" – as High Caffeine Content notes.
This application will cost you a mere $2.99 from the iTunes App Store and works with every single mobile-data connected iPad out on the market thus far including the iPad 3G, iPad 2 3G, and the third generation iPad with LTE. You'll need GPS to make it all work, and you'll be working at the speed that you set with your very own Speed Limiter with tone for moving too quick. Speed can be set to work in the background incase you're working with a clock up front or of course want to be controlling music with Spotify instead.
Have a peek at some screen-shots below and the demo video above and grab the app now from the iTunes App Store.