Spectrum by LG hands-on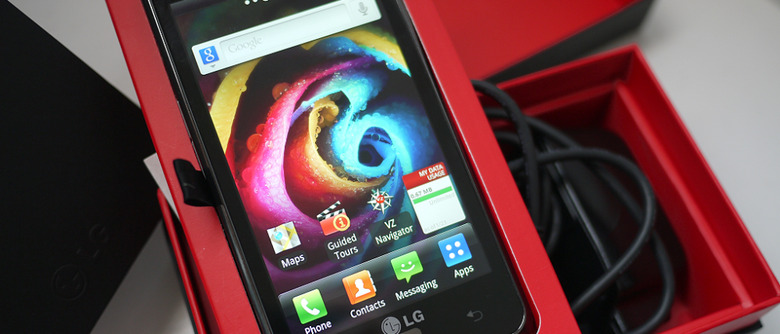 Verizon's next LTE device is here in the Spectrum by LG, a device with the first True HD IPS display for the carrier at 4.5-inches and 392 PPI – that's massive. This smartphone also has a dual-core 1.5GHz Qualcomm Snapdragon processor covered with a pane of Corning Gorilla Glass, the whole monster running Android 2.3 Gingerbread with an Android 4.0 Ice Cream Sandwich upgrade in the pipe for the first half of 2012. This device is not the least massive smartphone on the market, that's for certain.
This smartphone is both light and powerful, it rolling out with the most high-clocked dual-core processor on the market and a collection of applications right out of the box that will have your head spinning. There's ESPN ScoreCenter for your sports needs, it connected to the NFL, the MLB, and NASCAR to name a few. You'll notice that this and other apps are collected cleanly in the apps drawer which has a unique face, it being part of LG's own custom user interface over Android.
While you're watching the hands-on video for this device, please feel free to write down any and all questions you've got on its technology or its build. We'll be giving this smartphone a full review by the end of the week, and we want you to have all the information you need on what's going on here! Wouldn't want to buy a phone unless you had the full story, yes? Have a peek at the sharpness for now!