Sparrow iPhone 5 Support Coming Soon
The extremely popular and loved by many iOS and Mac email client Sparrow will be getting a much needed update soon. After being acquired by Google we later learned the popular app would get a feature freeze, and no further updates would be coming with what they called a 'bug fix only' status. Today however we learned of an upcoming update many Apple fans should be excited to hear about.
The popular app will be getting a much needed update that will allow for full iPhone 5 and iOS 6 support. Today the Sparrow founder Dominique Leca posted a quick tweet to his Twitter page that should ease the minds of all those who've recently upgraded to an iPhone 5 and was worried that larger screen wouldn't get the proper support.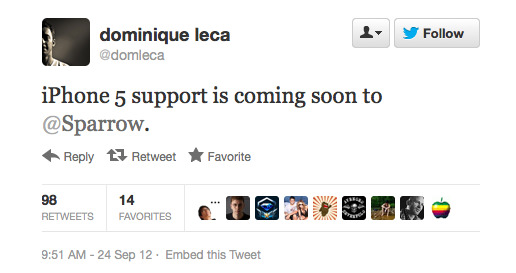 He was rather brief sadly and only mentions that "iPhone 5 support is coming soon to Sparrow" but didn't give any further details or dates. A recent update for Sparrow on Mac brought that lovely Retina and OSX Mountain Lion support, so this was expected in a way — even after the acquisition by Google.
The Sparrow team was originally acquired to help achieve a bigger vision and improve Gmail but it looks like they'll still be doing a little here and there for Sparrow on the iPhone. While we probably shouldn't expect new features from them, little updates like supporting the latest and greatest smartphone from Apple should be included — and we're glad to see that coming. Do you still use Sparrow for your go to email client?
[via TheNextWeb]