Spark Mail for Android released just in time to replace Google Inbox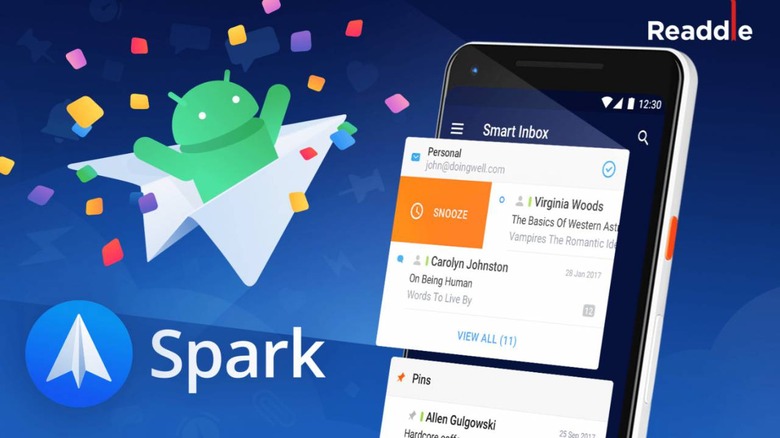 Readdle, a company with a number of productivity apps for iOS, has launched its email app for Spark on Android. The product brings many of the same productivity features from the company's iOS app to Android devices, including smart notifications, message prioritization, and a variety of tools that include the ability to snooze emails and schedule when messages will be sent.
Spark is more than a basic email app, instead offering features that enable professionals to organize and schedule their conversations. According to Readdle, it designed Spark to address some of the big problems associated with modern email applications, including too many messages packed into a single inbox, trouble quickly organizing the messages to identify which matter most, and the struggle associated with collaborating with others through email.
Spark features what Readdle calls a Smart Inbox, which splits messages up into categories like "Personal" and "Notifications." This automatic organization makes it easier for users to find the messages that are most likely to need attention, removing unimportant messages like social media notification alerts and random newsletters.
In addition, Spark features Smart Notifications, which only push alerts to users if someone important has sent an email. This feature is designed to reduce the number of pointless notifications for every random email that arrives. Other features include what Readdle calls 'Superpowers' — that is, email tools like snoozing a message, pinning emails, setting reminders, scheduling when a message will send, and more.
Finally, Spark brings a collaboration feature that enables teams to jointly create an email and discuss emails in private messages that exist outside of the email itself. The company plans to bring other features to its Spark Mail for Android app soon, including third-party integrations, quick replies, calendar, templates, and team delegation.
These features are available on the Android version of the app, which arrived on the Google Play Store today; it is free to download.