Spark Linux tablet given video rundown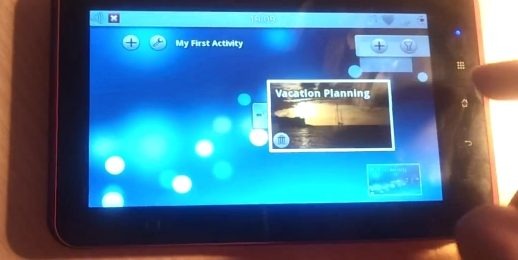 The device you will soon be looking at is a $256 7-inch tablet running on a basic mobile version of Linux, and its name is Spark. The software user interface goes by the name Plasma Active and has been in the works for some months, ramping up to this point at which this tablet can bring the lovely functionality to the market with what we hope is a beta version of the Spark tablet. You'll find that the software experience looks familiar if you're used to using a Linux environment on your computer now, but that the tablet itself isn't all that impressive when it comes to hardware.
The tablet we're looking at here is essentially a rebranded Zenithink C71, a device which in that iteration ran Google Android. In this Spark release, the tablet will be packaged with the ability to run Mer as well as Plasma Active. You'll see more than just a little bit of lag here and there, as even though the tablet has a 1 GHz AMLogic ARM Cortex-A9 processor with Mali 400 graphics, we're still seeing less than suitable power for even this relatively small screen.
The display here is a mere 800 x 600 pixels for the entirety of its 7-inches, and inside you'll find 4GB storage, 802.11 b/g Wifi, and a 1.3 megapixel front-facing camera. What's being marketed here is not just the mediocre tablet specs or the software, but the fact that this is the first "truly open" tablet on the market. It has open source software, an unlocked bootloader, and a content store based on the same open sourced platform the OS is on – the store itself can be created and distributed by anyone.
We'll watch how this project develops and see if the idea spreads to the rest of the tablet / smartphone world. Likely it'll remain in the wings and "underground" for some time to come. Also check out this demonstration of the Plasma Active interface on a slightly nicer piece of hardware to see its true potential:
[via Liliputing]