SpaceX's Tesla Roadster-launching Falcon Heavy rocket video is a must-see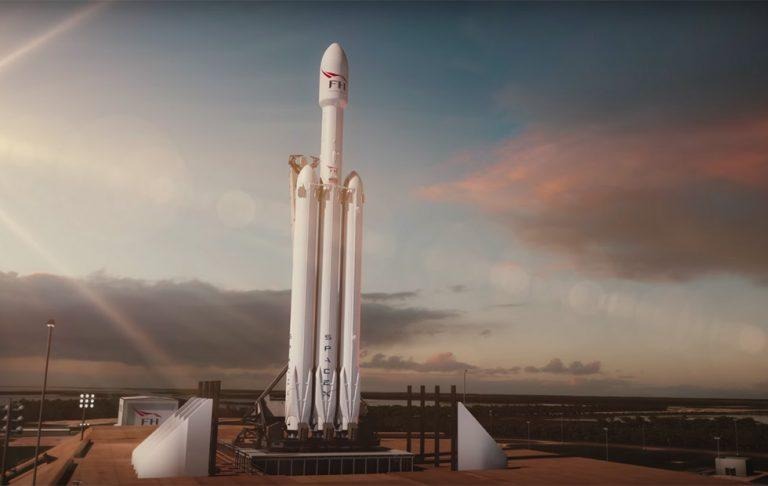 SpaceX is gearing up to launch what will soon be the world's most powerful operational rocket. The company confirmed plans for the test launch late Friday, warning Florida residents that they may hear multiple sonic booms during the missions. In addition to launching the Falcon Heavy, SpaceX says it will attempt to land all three first stage cores as a secondary mission.
The Falcon Heavy is a massive rocket able to send almost 64 metric tons — that is, about 141,000 pounds — into orbit. In comparison, SpaceX explains that the Saturn V moon rocket was the only rocket to send a greater payload into orbit. SpaceX made Falcon Heavy with the intention of carrying human passengers into space, among other things, eyeing future missions to the moon or even, eventually, Mars.
Before any such mission can take place, though, SpaceX will perform tests, with the first test launch scheduled to happen tomorrow, February 6. SpaceX has confirmed that the launch will take place from the NASA Kennedy Space Center Launch Complex 39A in Florida with a launch window starting at 1:30PM Eastern time.
In addition to getting the Falcon Heavy into orbit, SpaceX says it will attempt to land all three of the rocket's first stage cores. This will include the two side cores, which SpaceX will aim for its first and second Landing Zones at Cape Canaveral Air Force Station, as well as the center core, which will aim for the droneship in the Atlantic ocean called "Of Course I Still Love You."
Some Florida residents may hear a sonic boom (or multiple) due to this secondary mission, SpaceX says. This is particularly likely for people located in Volusia, Brevard, Orange, Indian River, Osceola, and Seminole counties, though Brevard County residents are at the top of the list.
The video above shows the rocket's payload for this launch: SpaceX CEO Elon Musk's Tesla Roadster with a mannequin passenger. Musk shared an image of the Roadster and mannequin on his Instagram account today, referring to the passenger as "Starman." Many people are camping out in Florida for a chance to witness the launch, but the public is being warned that this test launch could fail, with Musk previously explaining that "there's a lot that could go wrong."
The public can watch a livestream of the launch event on SpaceX's website here.