SpaceX's first completed Crew Dragon spacecraft gets a vice-presidential visit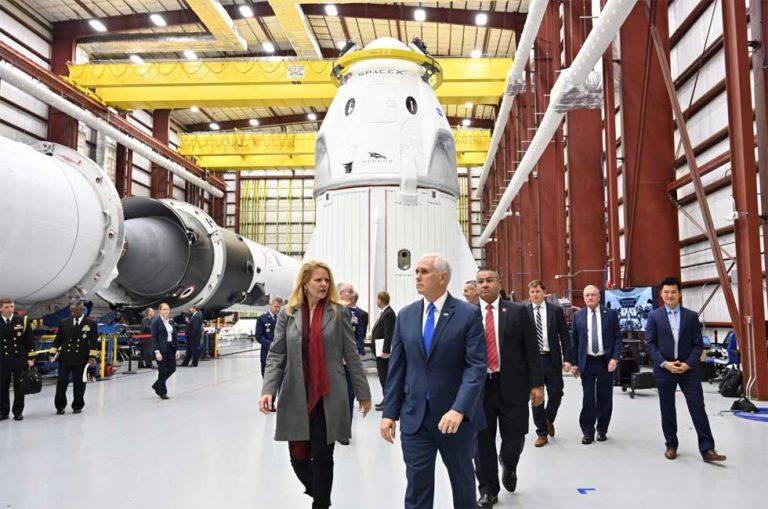 SpaceX recently showed off its Pad 39A launch facility and inside integration and preflight prep for the very first completed Crew Dragon spacecraft is underway. The new Falcon 9 Block 5 rocket that will push the Crew Dragon into space next year is also seen in some of the shots. The current launch target for the spacecraft is January 17.
That mission is called Demonstration Mission 1 or DM-1 and will have no people on board. The purpose of that initial demonstration will be to ensure the performance and characteristics fit within design parameters. If all goes well, NASA could have the data needed to certify the spacecraft as ready to put astronauts into space as early as June 2019.
Interestingly photos that came out of the unveiling also show the Crew Dragon spacecraft with its interesting trunk-based solar panels. Those panels wrap around the body of the spacecraft rather than being traditional solar arrays like the cargo Dragon spacecraft uses.
Incredible opportunity to see @SpaceX's Dragon 2 Capsule – an important part of the future of American human space exploration as we aim to return American astronauts to space on U.S. rockets from U.S. soil! pic.twitter.com/Pk5lkpOFEX

— Vice President Mike Pence Archived (@VP45) December 18, 2018
To generate power, the spacecraft points the half of its body covered in solar panels towards the sun. The trunk portion and the solar panels aren't reused as it falls back into the Earth's atmosphere after launch.
omfg @spacex just posted some absolutely stunning photos inside Pad 39A's hangar: meet the first completed Crew Dragon and its Falcon 9 Block 5 rocket (B1051) In the far left (second photo), you can also see what is probably B1047 in the midst of refurbishment. pic.twitter.com/NWULyAEhpQ

— Eric Ralph (@13ericralph31) December 18, 2018
While SpaceX is nearing the testing phase for its spacecraft, the NASA program that saw the creation of the Dragon Crew capsule has been delayed nearly two years from its original launch target. The delay was in part due to Falcon 9 failures in 2015 and 2016 that would have certainly cost astronaut lives had crew been aboard.