SpaceX test flight to ISS aborted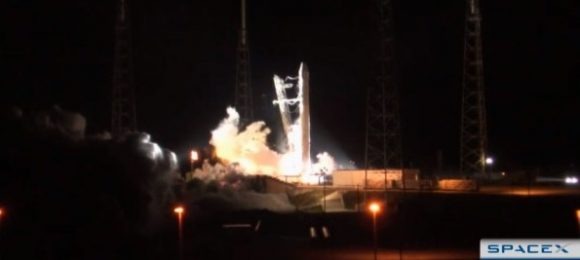 SpaceX has again been forced to abort its planned mission to dock with the International Space Station, with the private spaceflight company's latest delay being as close to lift-off as possible. The unmanned Falcon 9 rocket had ignited its nine main engines earlier this morning and was T minus 0.5 seconds to launch when engineers aborted due to "slightly high combustion chamber pressure on engine 5" SpaceX said. However, a new attempt could be as early as a few days time.
"Will adjust limits for countdown in a few days" SpaceX tweeted, after the launch at 4:15AM Eastern was cut short at the last minute. No specific explanation for what happened to the fifth engine has been given.
However, the firm is keen to point out that today's result should not be considered a failure. "We aborted with purpose" SpaceX President Gwynne Shotwell told MSNBC. "It would have been a failure if we had lifted off with an engine trending in this direction."
The mission was an important – and much delayed – one for SpaceX, as it was intended to demonstrate that, with the aid of the six astronauts and cosmonauts currently on the International Space Station (ISS), a private, unmanned craft could successfully dock with the orbiting platform. SpaceX and NASA intend to use the ship to run supply missions among other things, now that the Space Shuttle has been officially retired, with a $1.6bn contract already agreed upon for twelve missions.
SpaceX's next opportunity for the launch is Tuesday, May 22, at 12:44AM Pacific. The company has been forced to delay this test flight on several previous occasions, citing final tweaks of the rockets and software as the primary cause for postponement.